By Denis Pombriant on February 15, 2013
Old pal, Chris Kanaracus (who covers enterprise software and general technology breaking news for The IDG News Service) has a story in InfoWorld yesterday which is very interesting in that it describes the current dynamics of the enterprise software business. Just to convolute things, the article is about a recent report from Forrester Research, which […]
Posted in Featured Posts, Technology / Software | Tagged Blue Ocean Strategy, Forrester Research, IDG, InfoWorld, oracle, Oracle Fusion Applications, salesforce.com | 4 Responses

By Michael Krigsman on December 3, 2010
This post offers thoughtful advice, based on an understanding of the Devil's Triangle, to help ensure your project will be a success.
Posted in Featured Posts, Technology / Software | Tagged Devil, Enterprise resource planning, erp, InfoWorld, project management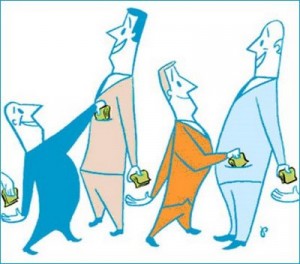 By Brian Sommer on September 5, 2010
Can you be a consultant and still accept referral fees from a hardware or software manufacturer? Can you do it if you disclose these monies? The answer depends if you are a consultant or a reseller. It also depends if you are truly independent and objective.
Posted in Business, Featured Posts | Tagged Accenture, consu;ting, Hewlett-Packard, implementation, InfoWorld, si, Sun Microsystems