By Zoli Erdos on January 19, 2011
This morning Zoho, known for SMB focused SaaS offerings in the areas of productivity, collaboration, business processes launched an Accounting app: Zoho Books. I typically don't do detailed product reviews, when I see the first good ones, will link to them – just a few points here and then let's discuss how it rounds out […]
Posted in Featured Posts, Technology / Software | Tagged accounting, application software, business suite, CRM, erp, integration, Intuit, QuickBooks, small business, smb, sme, Xero, zoho | 2 Responses
By R "Ray" Wang on July 11, 2010
It's All About The Cloud At WPC10 Attendees at this year's Microsoft Worldwide Partner Conference 2010 in Washington, D.C. already expect Windows Azure development to be a key theme throughout this annual pilgrimage.  Microsoft has made significant investments into the cloud.   Many executives from the Redmond, WA, software giant have publicly stated that 90% […]
Posted in Featured Posts, Technology / Software | Tagged Accenture, Activant, Actuate, Agilysis, agresso, Amdocs, AppFabric, apple, Ariba, AspenTech, Bearing Point, BIRST, BSD, Business Models, CA, Capgemini, Cincom, Cisco, Cloud, Cloud Computing, Columbus IT, Dell, Deloiitte, Deltek, development as a service, Diamond Technology Partners, EMC, Epicor, EscrowTech, Flavors Of Cloud Computing, fujitsu, GE Capital, Google Linux, Grant Thorton HCL, Hexaware, Hitachi, hp, ibm, IFS, Infor, Information Builders, Infosys, Infrastructure as a service, InnovaSafe, Intuit, IronMountain, JDA Software, Key Financial, KPIT, KPMG, L&T, Lawson, Manhattan Associates, microsoft, Microsoft Azure, Microsoft Partners, Microsoft SQL Azure, Microsoft Windows Azure, MIcroStrategy, Mincom, myDials, NCC Group, NetApp, NorthHighland, NoSQL Options, OpSource, oracle, Patni, pivotlink, Plan9, Platform as a service, PriceWaterhouseCoopers, Proferi, QAD, QlikTech, Red Prairie, RedHat, Research Report, SaaS offensive, SaaS strategies, Sage, sap, SAS Institute, SatyamMahindra, siemens, SOA Software, Software AG, software as a service, Sungard, Sybase, Syntel, TCS, Tectura, Tibco, Unix, vendor strategy, wipro, Worldwide Partner Conference, wpc10, Xerox | 1 Response

By Zoli Erdos on June 30, 2010
I'm sure as hell lucky to have bet on Mint when Microsoft Money died… but to be honest it was a flip of a coin decision, Wesabe, the other web-based personal finance management program looked just as attractive. Good product, perfect pe…
Posted in Business | Tagged deadpool, Entrepreneurship, Intuit, mint, Personal Finance, quicken, startups, wesabe | 1 Response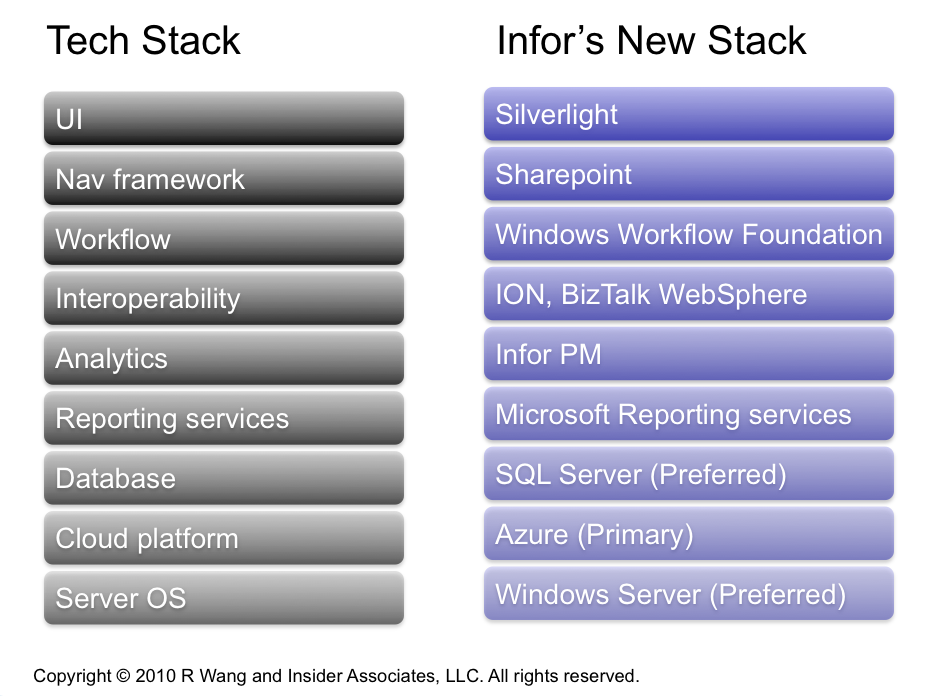 By R "Ray" Wang on June 25, 2010
Infor Takes A Bold Stance By Standardizing The Technology Stack
On June 23rd, 2010,  Infor announced that the Alpharetta, GA, based software solutions provider would align its future tools and technology platform with Microsoft.  Infor intends to use and integrate Microsoft server-based products to improve time to market for future product development.  In addition, Infor […]
Posted in Technology / Software | Tagged agresso, Cincom, Epicor, Exact, ibm, IBM "Blue Stack", Infor, Intuit, Lawson, microsoft, Microsoft "Rainbow Stack", Microsoft SharePoint, Microsoft STB, Microsoft Windows Workflow Foundation, News Analysis, oracle, QAD, Sage, sap, stack wars, SYSPRO, vendor strategy | 2 Responses

By R "Ray" Wang on April 22, 2010
SnapLogic Solves Complex Cloud/SaaS Based Integration
Organizations face a deluge of data from more and more new sources, especially in the Cloud.  Existing integration solutions often require expensive custom coding that's purpose built; but rigid and disposable.  A change in business objects or swap out of new solutions often require brand new investments in integration.  SnapLogic […]
Posted in Business, Featured Posts | Tagged ADP, ADP Employease, Apps Strategy, boomi, Box.net, cast iron systems, Cloud, Cloud Computing, cloud integration, enterprise applications, enterprise apps, Enterprise apps strategy, Enterprise architecture, Enterprise Business Apps, Enterprise Business Apps Vendors, Informatica, Intacct, integration, Intuit, OpenAir, oracle, PeopleSoft, pervasive, Pervasive Software, QuickBooks, SaaS, SaaS Integration, SnapLogic, Snaps, software as a service, sugarcrm, the "I" word, Thursday's Tech Showcase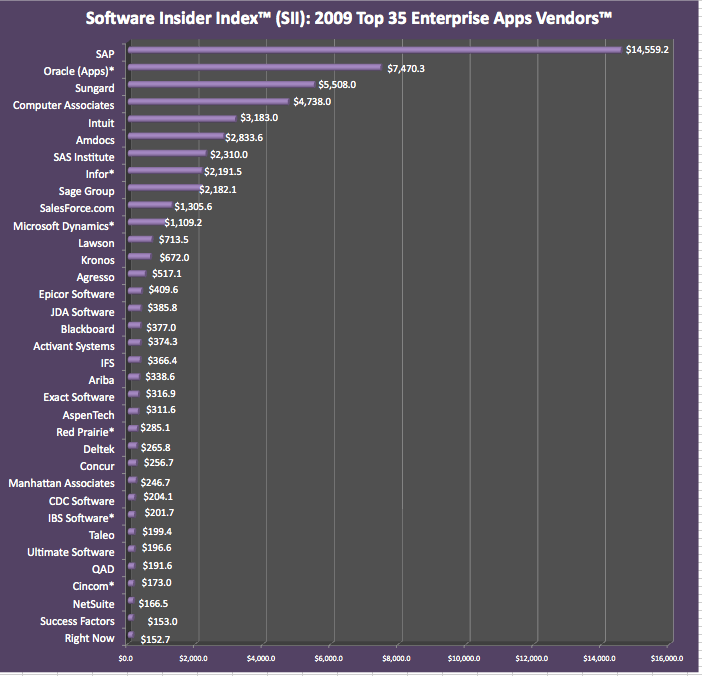 By R "Ray" Wang on March 18, 2010
2009 Results In Major Revenue Declines For On Premise And Officially The Year Of SaaS
A review of last year's financial performance should erase any doubts about the viability of SaaS as a deployment option and a business model.   Traditional on-premise business apps vendors took the brunt of the beating earlier in the year but […]
Posted in Business, Featured Posts | Tagged Activant Systems, agresso, Amdocs, Ariba, Aspen Tech, Blackboard, CDC Software, Cincom, Computer Associates, Concur, Deltek, Epicor, Exact Software, IBS Software, IFS, Infor, Intuit, JDA Software, Kronos, Lawson, Manhattan Associates, Microsoft Dynamics, netsuite, oracle, QAD, Quarterly Financial Tracker, Red Prairie, Right Now, Sage Group, salesforce.com, sap, SAS Institute, Success Factors, Sungard, Taleo, Ultimate Software, Unit 4
By Michael Coté on January 26, 2010
One company's story of using Intuit's Partner Platform to deliver new, cloud-based RIAs.
Posted in Technology / Software | Tagged Cloud, Development Tools, flex, Intuit, IPP, PaaS, Programming, RIA, RIA Weekly

By Paul Greenberg on January 25, 2010
(Brent Leary, who is both a Social CRM guru and a great friend has graciously done a post on the companies to watch for 2010 when it comes to the small and medium business space. He was clearly trying to outdo me because his post is so big that it has to be split into […]
Posted in Featured Posts, Technology / Software | Tagged Act, Avidian, Constant Contact, CRM, InfusionSoft, Intuit, Prophet, Sage, salesforce.com, small business, smb, sme, xobni, zoho | 2 Responses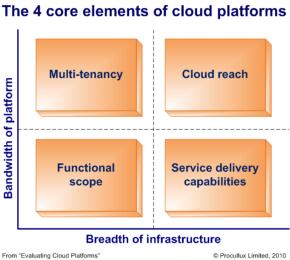 By Phil Wainewright on January 20, 2010
Today's announcement that Microsoft and Intuit are to marry up their cloud platforms with a software development kit makes perfect sense to me. Some of my ZDNet colleagues have been less impressed — Dennis Howlett calls it more PaaS to put in your aaS environment while Mary Jo Foley says it's to shore up Redmond's […]
Posted in Featured Posts, Technology / Software | Tagged Azure, Cloud Computing, Development, ecosystems, integration, Intuit, Intuit Partner Platform, microsoft, Platform as a service, Service level management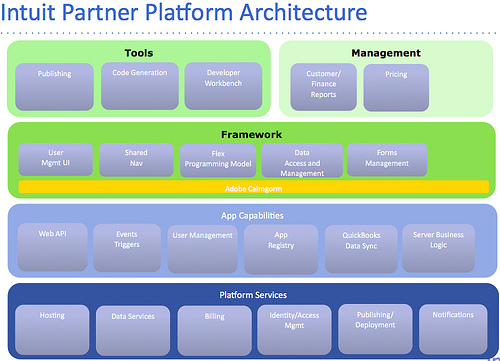 By Michael Coté on January 11, 2010
Intuit offers a ready-to-use PaaS for building on-top of QuickBase, including with Flex.
Posted in Technology / Software | Tagged Development Tools, Intuit, Intuit Partner Platform, iTunes, Platform as a service, Programming, RIA, RIA Weekly