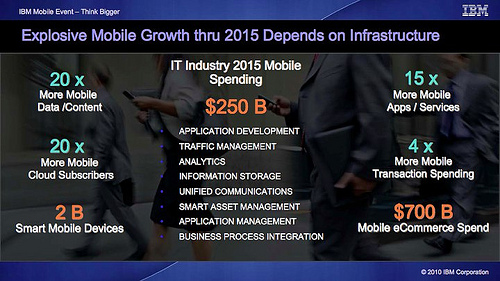 By Michael Coté on June 23, 2010
IBM says the mobile market is around $250B and is looking to grab a part of the pie.
Posted in Featured Posts, Technology / Software | Tagged conferences, enterprise software, ibm, IBM Research, IBM WebSphere, IBMLab, IBMSWG, iPhone, iPhone 3G, mobile, Mobile Computing, Software development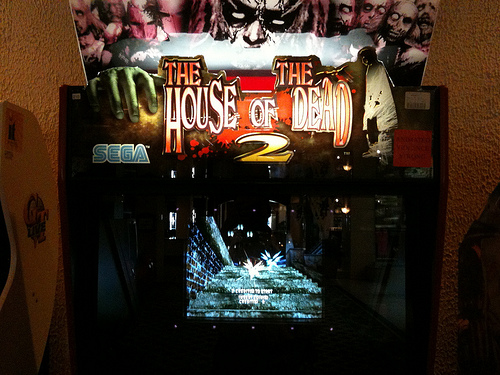 By Michael Coté on June 7, 2010
While we "don't do numbers" at RedMonk, I come across many interesting numbers each week. Here are some:
Mobile impulse buying
MacRumors live-blogging the Steve Jobs during WWDC:
Now three stores on the iPhone: iTunes, iBookstore, App Store. Over 150 million accounts with credit cards associated with them.
This Week in Conference Attendees
Microsoft TechEd: "6,000 IT pros […]
Posted in Business | Tagged App Store, apple, iPhone, iPhone 3G, iTunes, Numbers, Steve Jobs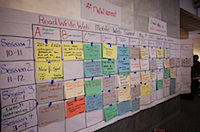 By Jeff Nolan on May 10, 2010
I went to the RWW Mobile Summit last Friday where in the true unconference style the attendees defined the agenda and developed the conference content at the day transpired. While moderate in size, it was evident in the session proposals that the people attending were mobile insiders with intimate knowledge of the challenges and opportunities […]
Posted in Trends & Concepts | Tagged augmented reality, Foursquare, iPhone, iPhone 3G, Justin.TV, mobile, mobile content, mobile data, RFID, RWW, World of Warcraft
By Michael Coté on April 29, 2010
Overall, pretty good stuff.
Posted in Business, Featured Posts | Tagged Adobe Systems, apple, google, Hewlett-Packard, hp, iPhone 3G, M&A, mobile, Open source, palm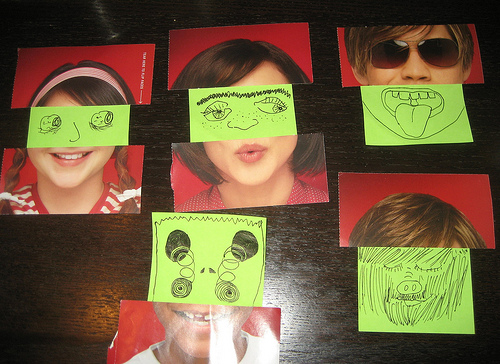 By Michael Coté on March 30, 2010
Is it time to stop worrying about software being "late"? Cloud-inspired software delivery muddles the idea of a fixed release date, making the concept of late software difficult to pin down.
Posted in Technology / Software | Tagged Agile, apple, Cloud, google, Google Reader, iPhone, iPhone 3G, Iron Triangle, Programming