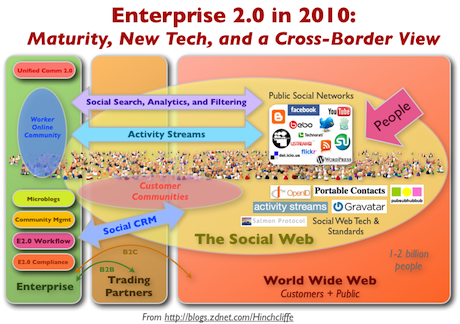 By Dion Hinchcliffe on February 22, 2010
Two significant and closely related trends in enterprise computing this year are the growth of Software-as-a-service (SaaS) and social computing. By most accounts, both are gaining ground fairly rapidly while still not being used for core business functions or mission critical applications in most large firms, at least not yet.
Here's a breakdown of what Enterprise 2.0 technologies and products to watch this year.
Posted in Featured Posts, Technology / Software | Tagged blogs, Business Models, collaboration, Community, community management, Convergence, Customer Community, Digital Strategy, Enterprise 2.0, Enterprise Web 2.0, Enterprise Wikis, Grassroots Community, Identity, LDAP, openid, Products, social computing, Social CRM, Social Economy, Social Media, social networking, social networks, social software, social web, Web 2.0, Web 2.0 Platforms, Web as Platform, Web services, Wikis | 2 Responses