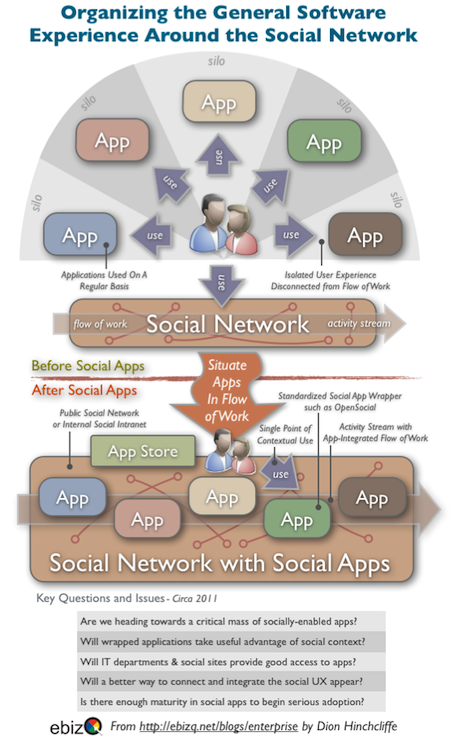 By Dion Hinchcliffe on August 3, 2011
While social networks are still just getting their sea legs in most organizations, the next big leap forward — in addition to social analytics — is likely to be the integration of our productivity and line of business apps into our activity streams. Will this unleash significant new value? Very probably. But it's also possibly the big integration […]
Posted in Featured Posts, Trends & Concepts | Tagged Enterprise 2.0, Enterprise architecture, Enterprise Computing, Industry Trends, mashups, SOA, social business, social computing | 4 Responses

By Phil Wainewright on February 25, 2011
I found myself intrigued by the launch of Echo E2 during Social Media Week in San Francisco earlier this month. The new Echo service is a StreamServer and App Store that allows a company to bring together social media activity…
Posted in Featured Posts, Technology / Software | Tagged aggregation, customercommunities, echo, mashups, realtimeweb, socialmedia | 1 Response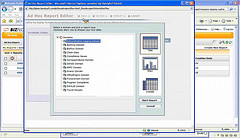 By Sandy Kemsley on January 7, 2011
Wow, has it really been a month since I last blogged? A couple of weeks vacation, general year-end busyness and a few non-work side projects have kept me quiet, but it's time to get back at it. I have a few partially-finished product briefings sitting around, and thought it best to get them out before […]
Posted in Technology / Software | Tagged BI, BPM, Business process management, Handysoft, Jaspersoft, mashups, modeling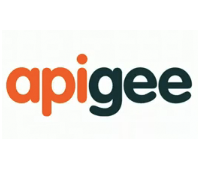 By Michael Coté on September 22, 2010
Sonoa renames its self to Apigee, simplifying it's offerings along a freemium model.
Posted in Technology / Software | Tagged API, Apigee, Brief Notes, Development Tools, freemium, marketing, mashups, Sonoa
By Sandy Kemsley on August 31, 2010
Back in May at TIBCO's TUCON conference, I had a chance for a briefing on their new ActiveMatrix BPM, although not a full demo. Since then, however, I've had about three hours of demo sessions with Roger King to see more of what they're doing with ActiveMatrix (which I will refer to as AMX) BPM […]
Posted in Technology / Software | Tagged BPM, Business process management, Business process modeling, Cloud, data model, mashups, Tibco, workflow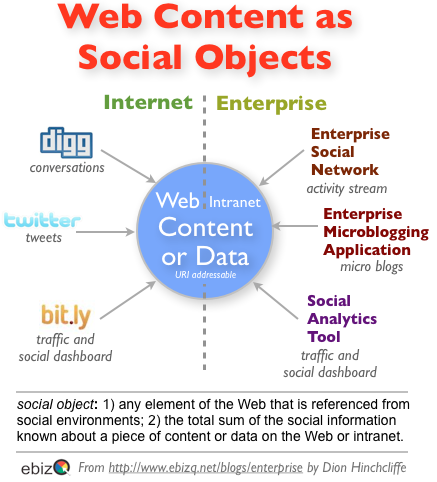 By Dion Hinchcliffe on August 5, 2010
For most of the history of the Web, it's been about pages and links. This simple yet profoundly powerful structure has led to many of the most important capabilities of the Internet including search, analytics, network effects, and many other…
Posted in Trends & Concepts | Tagged activity streams, Enterprise architecture, HTTP, Industry Trends, information management, iPhone, mashups, Open APIs, RSS, social business, social computing, social graph, Social Objects, Syndication

By Sandy Kemsley on July 30, 2010
I had a briefing on Metastorm's M3 collaborative modeling and Smart Business Workspace two weeks ago, and last week we had a follow-up demo. This is the start of a push towards a full BPM suite in the cloud, providing collaborative process modeling and the end user runtime hosted on Azure, but Microsoft still needs […]
Posted in Technology / Software | Tagged BPM, Cloud, EA, mashups | 1 Response
By Sandy Kemsley on July 13, 2010
Although we didn't have a chance for a demo, I had a quick briefing with Greg Carter, Metastorm's CTO, on the announcements that they made today. M3 Collaborative Modeling We discussed M3, their cloud-based collaborative process modeling tool. This is one of the first BPA/BPM offerings that I've seen on the Microsoft Windows Azure platform, […]
Posted in Technology / Software | Tagged BPA, BPM, Business process, Cloud, mashups, Metastorm BPM, Metastorm M3, social software | 2 Responses

By Dion Hinchcliffe on March 5, 2010
Though smaller than in year's past, Germany's CeBIT trade show in Hanover this week remains one of the giants of the industry and is a must-attend event for much of Europe's technology leaders. For the last two years, I have been participating in Webciety, a show within a show that explores the emerging 21st century digital lifestyle.
Here is a breakdown of how Europe is looking at Enterprise 2.0 adoption and how it affects us as well.
Posted in Featured Posts, Technology / Software, Trends & Concepts | Tagged Architecture of Participation, blogs, Cloud Computing, collaboration, Collective intelligence, community management, Enterprise 2.0, Enterprise Web 2.0, Enterprise Wikis, mashups, Network effects, Products, SaaS, social computing, Social CRM, Social Economy, Social Media, social networking, social networks, social software, social web, Web 2.0, Web 2.0 Platforms, Wikis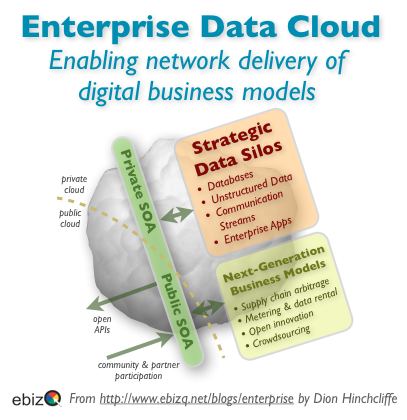 By Dion Hinchcliffe on February 23, 2010
As organizations take a close hard look at cloud computing and how it can help them with their businesses, some are coming away unimpressed by the maturity or with concerns about risk, control, and privacy. Yet others are beginning to…
Posted in Trends & Concepts | Tagged Business Models, Cloud Computing, Crowdsourcing, databases, digital business models, Enterprise architecture, Enterprise Computing, Industry Trends, innovation, mashups, Open APIs, Open Business Models, Open Data, open supply chains, SOA, strategy