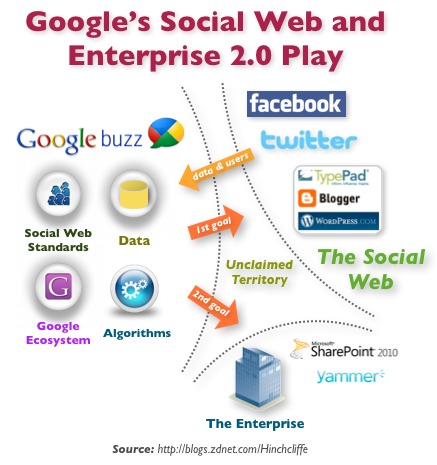 By Dion Hinchcliffe on February 9, 2010
Earlier this afternoon Google Buzz went live after a comprehensive launch event streamed live over YouTube. Buzz is a brand-new social tool that helps users to share updates, links, photos, videos, and more with the online world at large. Aimed at consumers and eventually enterprises, Buzz is Google's most serious Social Web play yet. Find out why with my detailed breakdown and analysis.
Posted in Featured Posts, Technology / Software | Tagged collaboration, Community, Enterprise 2.0, google, Google Buzz, Mobile Internet, Mobile Web, Open APIs, SaaS, search, Search Engines, social computing, Social Media, social networking, social software, social web, Twitter, Web 2.0, YouTube | 3 Responses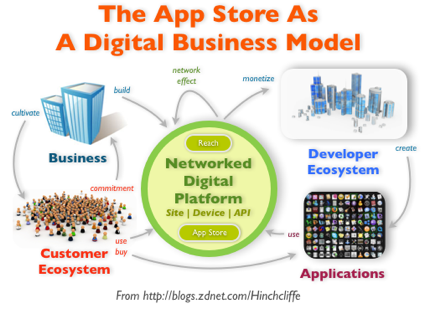 By Dion Hinchcliffe on January 21, 2010
Amazon announced today that it was opening up its Kindle reader device to 3rd party applications to be distributed later this year in the Kindle Store.
This news was just one more in a string of announcements from platform vendors large and small that they're getting the message: The app store model that Apple has proved so successfully with the iPhone is becoming the next frontier when it comes to next-generation software distribution that creates clear value for both customers and companies alike.
What will then mean for software distribution models of the future? You can bet they will look a lot like the Apple App Store…
Posted in Business, Featured Posts, Technology / Software | Tagged Amazon, App Store, apple, Business Models, Convergence, Digital Strategy, iPhone, kindle, Mobile Internet, Mobile Web, Network effects, Products, SaaS, The Long Tail, Web as Platform | 2 Responses