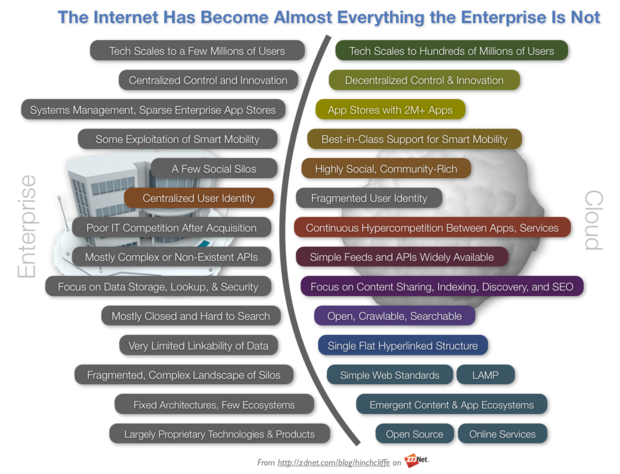 By Dion Hinchcliffe on November 3, 2014
It's no longer fashionable to criticize enterprise IT as it once was. That's because the Internet has definitively won the competition and is leading the way in tech innovation. But for proactive organizations, it doesn't have to be that way.
Posted in Featured Posts, Technology / Software | Tagged apps, Big Data, Cloud, Cloud Priorities, Consumerization, CXO, Data Centers, Data Management, Emerging Tech, enterprise software, innovation, IT Policies, IT Priorities, Leadership, Networking, servers, Technology / Software

By Craig Cmehil on October 16, 2013
For several years my primary role and concern really was that of being the Community Manager for the SAP Developer Network (SDN) which is now known as the SAP Community Network (SCN); I still work at SAP however my roles over the years have modified and adapted but as this year is the 10th anniversary […]
Posted in Business | Tagged Amazon.com, book, Community, Development, Jon Reed, Networking, publishing, recognition, relationships, sap, SAP Community Network, SCN

By Phil Fersht on November 27, 2012
A subtle, but decisive, shift took place in the sourcing advisory landscape today, with Alsbridge's announcing the acquisition of leading telecoms/networking sourcing advisor, Telwares, to firmly place Alsbridge as the main contender to ISG at the helm of the independent boutique advisor market.
Posted in Business | Tagged Alsbridge, ben trowbridge, BPO, Business Process Outsourcing (BPO), Buyers' Sourcing Best Practices, Cloud, Current Affairs, Enterprise Irregulars, IaaS and BPaaS, Innovation in Outsourcing, IT Outsourcing / IT Services, ITO, Networking, Outsourcing Advisors, PaaS, SaaS, Tag, telecoms, telwares, The Future of Outsourcing

By Phil Wainewright on August 29, 2012
Anyone who earns their livelihood in a data center should listen carefully to what's being said at this week's VMworld because it puts their job on the line.
Posted in Featured Posts, Technology / Software | Tagged data center, Networking, Nicira, Virtual Machine, virtualization, VMware

By Denis Pombriant on October 11, 2010
There's news coming out of the Said Business School of Oxford University about a study of product adoption with Facebook.  The research is said to document a herding instinct that can turn on and off.  The research was conducted using 2007 data from Facebook users adoption of Facebook Apps for their Facebook pages. Unfortunately, the […]
Posted in Trends & Concepts | Tagged CRM, economics, Felix Reed-Tsochas, Metcalf's Law, Networking, Oxford, Oxford University, Said Business School, technology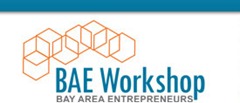 By Zoli Erdos on April 9, 2010
I get a lot of junk email that I normally ignore, but this one ticked me off enough to write about: Major Changes for Bay Area Entrepreneurs Workshop Changes?  To what?  I've never heard about this program before. Lowering the price of the Workshop by $500 to $1,000 Ouch!  Lowering?  And then it's still $1,000?  […]
Posted in Trends & Concepts | Tagged BAE, Bay Area Workshop, Business plan, education, Entrepreneurship, meetups, Networking, newtech, rip-off, sfbeta, startups, SVASE, workshop

By Zoli Erdos on March 5, 2010
Under the Radar is Silicon Valley's most established startup debut platform: a conference series organized by Dealmaker Media, covering business applications, social media, entertainment, mobility..etc. This year's conference in Mountain View, CA on April 16th will focus on Commercializing the Cloud – that's a fairly wide definition, and one that perfectly mashes with our focus […]
Posted in Business | Tagged Dealmaker Media, Entrepreneurship, events, marketing, Networking, Silicon Valley, startups, vc funding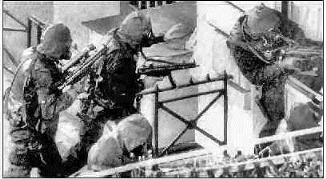 By David Terrar on February 17, 2010
A few weeks ago, as part of Social Media Week, Alan Patrick and I ran the very well received Social Media in Enterprise event (which we'll run again!). It provided 8 different perspectives on collaboration in the enterprise using the new tools. Amongst the many issues raised in a night of some great discussion and […]
Posted in Trends & Concepts | Tagged B2B, collaboration, enterprise, Enterprise 2.0, events, Events & Networking, General Business, military tactics, Networking, SAS, smib, Social Media, social media week, special forces, strategy, Web 2.0 | 4 Responses

By David Terrar on January 28, 2010
The newly formed EuroCloud UK group held their first member meeting a week ago  at the Thistle City Barbican Hotel – a panel led group discussion on Cloud standards and security.  Chaired by Phil Wainewright, the panel experts were Dr. Guy Bunker, independent consultant and blogger, formerly Symantec's chief scientist and co-author of ENISA's cloud […]
Posted in Business | Tagged basda, Cloud, Cloud Computing, cloud industry forum, enterprise, eurocloud, events, iaas, icaew, intellect, Networking, On Demand, PaaS, SaaS, salesforce.com, SAS 70, standards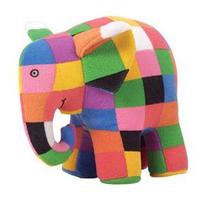 By David Terrar on January 27, 2010
What is it?As our contribution to London Social Media Week we are putting on Social Media in Enterprises on Tuesday Feb 2nd from 6 till 9pm at the Cass Business School in London (map is over here). Why? Well, at Tuttle last Friday Alan Patrick and I realised that there was no event for the […]
Posted in Trends & Concepts | Tagged collaboration, England, enterprise, General Business, London, Networking, Social Media