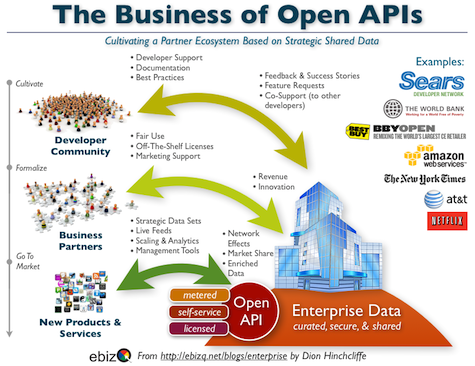 By Dion Hinchcliffe on December 18, 2011
It was just over a decade ago that businesses were still wondering why it was necessary to have a Web site. Now it's a foregone conclusion that they are one of the most important touchpoints for any organization to possess….
Posted in Featured Posts, Technology / Software | Tagged Application programming interface, Cloud Computing, CxO Issues, Enterprise architecture, Enterprise Computing, google, Google Analytics, Open APIs, Open Business Models, open supply chains, REST, SOA, Web-Oriented Architecture (WOA) | 1 Response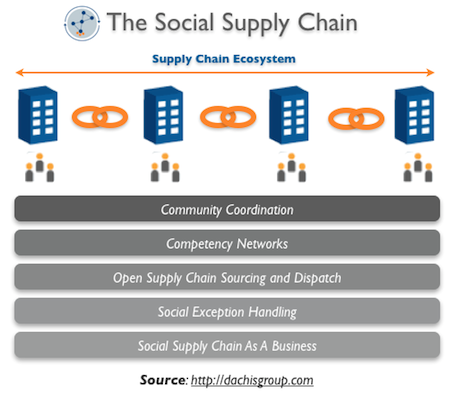 By Dion Hinchcliffe on April 22, 2010
I have been writing about and working with open supply chains for some years now, specifically how businesses are increasingly opening up their borders to much more dynamic, scalable, and valuable supply chain and partnership scenarios. Up until recently, the story of advancement when it came to supply chains has been one of technological improvement. Most recently, large enterprise suites and hand-crafted proprietary solutions have started to give way to SaaS and cloud approaches to supply chain management, which will be state of the art much sooner rather than later.
Posted in Featured Posts, Trends & Concepts | Tagged Blog Post, Community, competency networks, Knowledge Management, Open APIs, open supply chains, social business, social business design, social supply chain, software as a service, supply chain, supply chain management | 4 Responses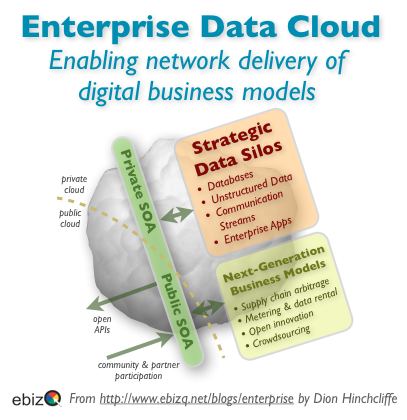 By Dion Hinchcliffe on February 23, 2010
As organizations take a close hard look at cloud computing and how it can help them with their businesses, some are coming away unimpressed by the maturity or with concerns about risk, control, and privacy. Yet others are beginning to…
Posted in Trends & Concepts | Tagged Business Models, Cloud Computing, Crowdsourcing, databases, digital business models, Enterprise architecture, Enterprise Computing, Industry Trends, innovation, mashups, Open APIs, Open Business Models, Open Data, open supply chains, SOA, strategy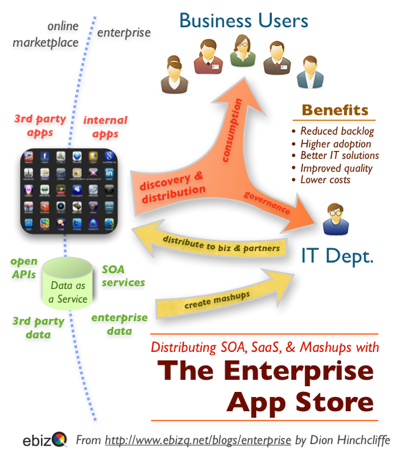 By Dion Hinchcliffe on February 5, 2010
There's been some useful discussion recently about using the app store model for distributing enterprise software and services within organizations. Up until now, most IT needs in the majority of businesses have been met largely through one-size-fits-all delivery of solutions…
Posted in Technology / Software | Tagged App Store, Business, Enterprise architecture, Enterprise Computing, Industry Trends, infotech, mashups, Open APIs, Open Business Models, open supply chains, SaaS, smbs, SOA, strategy, Web services, Web-Oriented Architecture (WOA) | 19 Responses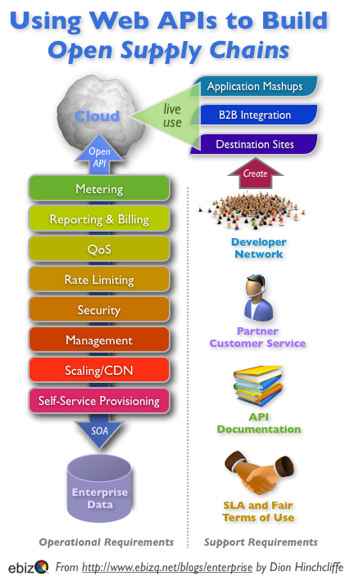 By Dion Hinchcliffe on December 2, 2009
I've been bullish for several years now on the potential of using open APIs as a new channel to the online business world, in particular using them to scale up new business relationships quickly and cost-effectively. Internet technology has made this possible for for a decade or more, but it's taken a while for awareness […]
Posted in Featured Posts, Technology / Software | Tagged API, B2B, Business Development, Business Models, Cloud Computing, cloud services, Enterprise Computing, Industry Trends, innovation, mashups, Network Security, Open APIs, Open Business Models, open supply chains, REST, salesforce, SOA, supply chain management, Twitter, Web 2.0, Web services, web services security, Web-Oriented Architecture (WOA) Tags: amazon