By Phil Wainewright on May 14, 2012
Enterprises are being sold over-specified, inefficient private cloud infrastructure that will end up as shelfware, a conference heard last week.
Posted in Featured Posts, Technology / Software | Tagged Cloud Computing, OpSource, San Francisco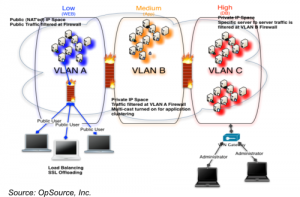 By Phil Wainewright on March 8, 2011
It makes no difference to security whether you deploy to public or private cloud. What matters is how you architect the infrastructure. Public cloud providers that offer sophisticated controls can even outperform many enterprise data centers.
Posted in Technology / Software | Tagged Cloud Computing, ibm, OpSource, public cloud, Virtual private network
By R "Ray" Wang on July 11, 2010
It's All About The Cloud At WPC10 Attendees at this year's Microsoft Worldwide Partner Conference 2010 in Washington, D.C. already expect Windows Azure development to be a key theme throughout this annual pilgrimage.  Microsoft has made significant investments into the cloud.   Many executives from the Redmond, WA, software giant have publicly stated that 90% […]
Posted in Featured Posts, Technology / Software | Tagged Accenture, Activant, Actuate, Agilysis, agresso, Amdocs, AppFabric, apple, Ariba, AspenTech, Bearing Point, BIRST, BSD, Business Models, CA, Capgemini, Cincom, Cisco, Cloud, Cloud Computing, Columbus IT, Dell, Deloiitte, Deltek, development as a service, Diamond Technology Partners, EMC, Epicor, EscrowTech, Flavors Of Cloud Computing, fujitsu, GE Capital, Google Linux, Grant Thorton HCL, Hexaware, Hitachi, hp, ibm, IFS, Infor, Information Builders, Infosys, Infrastructure as a service, InnovaSafe, Intuit, IronMountain, JDA Software, Key Financial, KPIT, KPMG, L&T, Lawson, Manhattan Associates, microsoft, Microsoft Azure, Microsoft Partners, Microsoft SQL Azure, Microsoft Windows Azure, MIcroStrategy, Mincom, myDials, NCC Group, NetApp, NorthHighland, NoSQL Options, OpSource, oracle, Patni, pivotlink, Plan9, Platform as a service, PriceWaterhouseCoopers, Proferi, QAD, QlikTech, Red Prairie, RedHat, Research Report, SaaS offensive, SaaS strategies, Sage, sap, SAS Institute, SatyamMahindra, siemens, SOA Software, Software AG, software as a service, Sungard, Sybase, Syntel, TCS, Tectura, Tibco, Unix, vendor strategy, wipro, Worldwide Partner Conference, wpc10, Xerox | 1 Response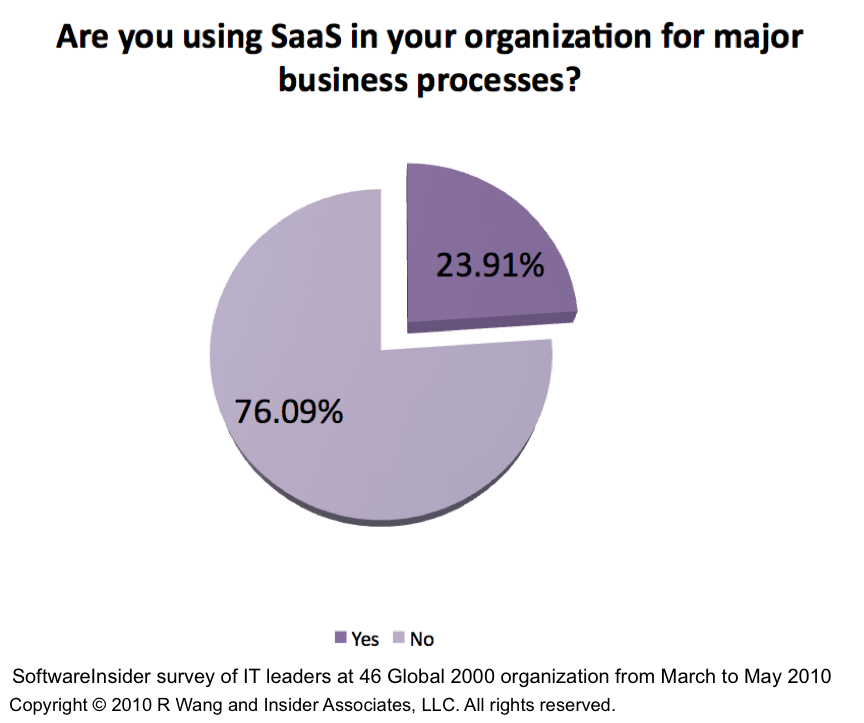 By R "Ray" Wang on June 21, 2010
SaaS Adoption Surveys Often Overlook Audience Composition
Over the past year, analyst firms, tech media, and even mainstream business media have happily showcased positive news about SaaS adoption.  The common theme remains clear – SaaS adoption moves beyond the tipping point in 2010.  Cloud adoption will reach a tipping point in the next 12 […]
Posted in Business, Featured Posts, Technology / Software | Tagged Apps Strategy, boomi, budgets, business technology, CastIron, Cloud, Cloud Computing, CRM, customer bill of rights, EMC, Epicor, EscrowTech, Google App Engine, HCM, HR, hybrid deployments, ibm, IBM Optim, Informatica, InnovaSafe, IronMountain, Microsoft Azure, NCC Group, netsuite, next gen cio, OpSource, PaaS, pbs, Pervasive Software, procurement, project based solutions, RainStor, Research Report, SaaS, SaaS escrows, SaaS Integration, SaaS strategies, salesforce.com, sap, SnapLogic, software as a service, technology budgets, vendor strategy, vmforce, VMware, workday, zoho | 3 Responses
By R "Ray" Wang on December 22, 2009
Keep In Mind Basic Rules Still Apply Regardless Of Deployment Option
The proliferation of SaaS solutions provides organizations with a myriad of sorely needed point and disruptive solutions.  Good news – business users can rapidly procure and deploy, while innovating with minimal budget and IT team constraints.  Bad news – users must depend more on their […]
Posted in Business | Tagged 2010, Apps Strategy, archiving, best of breed, boomi, Business process, business process transformation, business requirements, CastIron, Cloud Computing, customer bill of rights, customer data integration, data governance, data integration, disruptive, disruptive technologies, EMC, enterprise applications, enterprise apps, Enterprise apps strategy, Enterprise architecture, Enterprise Business Apps, enterprise software, Enterprise Software Licensee Bill of Rights, Epicor, Epicor 9, erp, EscrowTech, google, Google Apps Engine, hybrid, ibm, IBM Blue Cloud, IBM Optim, Infor, Infor Global Solutions GmbH, Informatica, InnovaSafe, innovation, integration, iron mountain, Lawson, Lawson Software, line of business, market strategy, market trends, master data management, mdm, Microsoft Azure, NCC Group, netsuite, OpSource, oracle, PaaS, pervasive, Pervasive Software, Platform as a service, RainStor, SaaS, SaaS Bill of Rights, SaaS escrow, SaaS Integration, SaaS strategies, salesforce.com, sap, SnapLogic, software as a service, software bill of rights, software escrow, Storage, Tuesday's Tip, User Experience, workday, zoho | 4 Responses