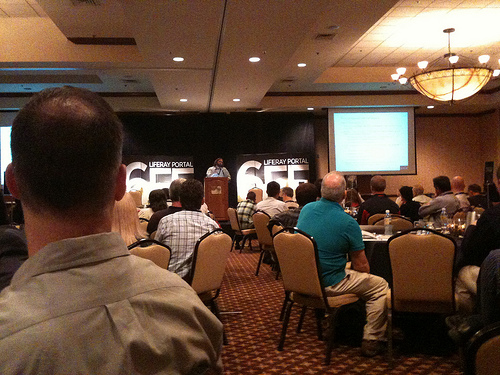 By Michael Coté on September 8, 2010
A new Liferay portal releases provides a good chance to ponder the state of runtimes in the Java world.
Posted in Technology / Software | Tagged conferences, Java, Liferay, portals, Quick Analysis, stackless stack

By Phil Wainewright on December 10, 2009
The advent of cloud computing has demonstrated how to use automation, virtualization and standardized machine images to drastically cut the time and effort required to provision new computing instances. Forward-thinking enterprise IT leaders are taking their cue from such examples and have begun implementing their own internal islands of 'cloud computing.' A really impressive example […]
Posted in Trends & Concepts | Tagged Cloud Computing, Distributed computing, Infrastructure, Platform virtualization, portals, provisioning, virtualization

By Michael Coté on October 12, 2009
James speaks to usability for enterprise software.
Posted in Trends & Concepts | Tagged adobe, AdobeMAX, AdobeMAX2009, conferences, enterprise software, Human-Computer Interaction, portals, RedMonkTV, RIA