By Dion Hinchcliffe on December 21, 2009
As we get ready to enter the final year of the decade, here's a round-up of what you found interesting here on Enterprise Web 2.0 based on actual readership. We'll see what the new year brings us but 2009 was full of notable developments that will have a lasting impact to way we using technology […]
Posted in Trends & Concepts | Tagged Business Models, Cloud Computing, collaboration, Collective intelligence, Community, Cost-effective scalability, Enterprise 2.0, Enterprise Web 2.0, Enterprise Wikis, Products, Radical Decentralization, social computing, Social Media, social networking, social networks, social software, Web 2.0, Web 2.0 Platforms, Web as Platform, Web services, Wikis
By Dion Hinchcliffe on December 10, 2009
The ongoing and seemingly inexorable decline of traditional media continues to be the canonical example of what happens when the ground rules get changed in an industry that is fundamentally unable to adapt to new market conditions. A great analysis recently posted by Umair Haque at Harvard Business underscores the point: The so-called new normal is starting to seem more and more foreign the deeper we go into the 21st century than most organizations may yet be willing to believe.
Here's an exploration of what will likely drive forward next-generation businesses in the 21st century.
Posted in Featured Posts, Trends & Concepts | Tagged Architecture of Participation, Business Models, Cloud Computing, collaboration, Collective intelligence, Community, Convergence, Cost-effective scalability, Crowdsourcing, Customer Community, Design Patterns, Enterprise 2.0, Enterprise Web 2.0, Governance, Network effects, Radical Decentralization, social computing, Social Economy, Social Media, social networks, Web 2.0, Web as Platform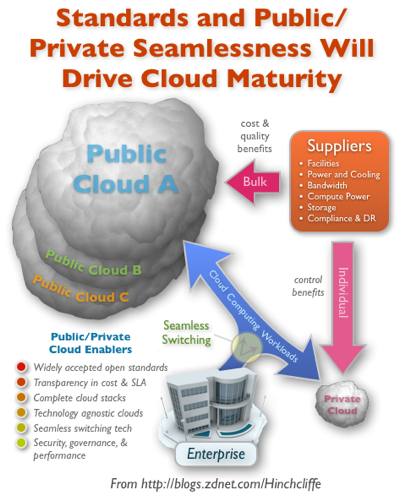 By Dion Hinchcliffe on November 24, 2009
This year has been one of relatively grand alliances between emerging cloud computing vendors as they fill holes in their capabilities and try to create appealing one-stop enterprise cloud services.
We've seen major announcements so far from IBM and Juniper, Cisco/EMC/VMware, and most recently BMC and Salesforce. There are many other smaller initiatives that have formed as well and all of these efforts underscore several key points for those businesses trying to understand the real strategic benefits of the cloud including cost, agility, and scalability.
In the end we have some momentus choices; here's how to take the high road when it comes to enterprise cloud computing.
Posted in Featured Posts, Trends & Concepts | Tagged Cloud Computing, Cost-effective scalability, Enterprise Web 2.0, Global SOA, Governance, Lightweight Service Models, Products, Radical Decentralization, SaaS, Web 2.0 Platforms, Web as Platform | 1 Response