By Jason Busch on January 10, 2013
We're big believers that 2013 is going to be the year that procurement technology adoption takes off in the SMB procurement market. But which technologies across the source-to-pay continuum are most suited to small and middle market environments? Hint: it's only a handful. Granted, there are opportunities for the full suite of capabilities (including strategic […]
Posted in Featured Posts, Technology / Software | Tagged Ariba, Coupa, DataBasics, eprocurement, QuickBooks, sap, SciQuest | 2 Responses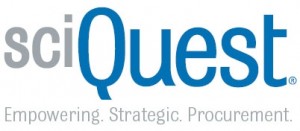 By Jason Busch on December 6, 2010
See the first part of this post here.
When it comes to supplier connectivity, SciQuest's core strength around supplier enablement is certainly its ability to manage industry/supplier specific catalog content. They do not curren…
Posted in Business | Tagged Ariba, Electronic Data Interchange, erp, PeopleSoft, SciQuest, Supplier enablement

By Jason Busch on November 24, 2010
This post is part of a fall 2010 series looking at Ariba Supplier Network alternatives, beginning with each provider's basic background in the area. We will then examine their solution approach and Ariba/third party systems integr…
Posted in Technology / Software | Tagged Ariba, Invoice, Jason Busch, procurement, Purchase order, SciQuest, Supplier enablement | 1 Response

By Jason Busch on September 29, 2010
Check out a video we previously posted on this subject here.
In the first post in this quick-hit series looking at SciQuest, I provided some very high-level background on where SciQuest sits in the overall Spend Management and …
Posted in Business | Tagged Healthcare, SciQuest, Spend Management

By Jason Busch on September 15, 2010
It's been a while since Ariba has had company in the public marketplace, as they are the only pure-play focused procurement vendor on the NASDAQ (other public companies such as Concur focus on auxiliary areas). In fact, you'd have…
Posted in Business | Tagged Ariba, Initial public offering, IPO, SciQuest