Service-oriented architecture
By Michael Krigsman on December 18, 2009
Recent discussions have brought attention to the important and evolving role of governance in the world of service-oriented architecture (SOA). These issues are highly relevant to anyone who wants to understand deeper levels of social computing.
Posted in Technology / Software | Tagged CIO issues, Governance, interview, IT issues, PaaS, Podcast, SaaS, Service-oriented architecture, SOA
By Michael Krigsman on December 17, 2009
Although geeky eggheads may become enamored by cool technology, real users care about solving practical, day-to-day business problems. We call that adoption.
Posted in Featured Posts, Technology / Software | Tagged CIO issues, Cultural issues, Enterprise 2.0, Failure 2.0, Governance, IT issues, PaaS, project management, SaaS, Service-oriented architecture, SOA, Social Enterprise | 1 Response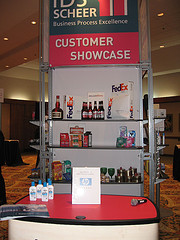 By Sandy Kemsley on October 23, 2009
For once, I don't need to travel to see a (mini) vendor conference: Software AG has taken it on the road and is here in Toronto this morning. I wanted to get an update of what's happening with webMethods since I attended their user conference in Miami last November, and this seemed like a good […]
Posted in Technology / Software | Tagged BPM, CentraSite, IDS Scheer, Service-oriented architecture, SOA, Software AG, webMethods