By Bob Warfield on October 10, 2014
Jason Lemkin says forget building wireframe UI's and start out interviewing 20 customers, because you just won't understand your customers until you do.  Here's the gist of why you need 20 interviews before you do anything else: And you have to do 20.  I know it's hard to get to 20.  But it's the right […]
Posted in Business, Featured Posts | Tagged bootstrapping, enterprise software, interview, J&Bshow, SaaS, Siebel Systems, startups, Steve Jobs, strategy, user interface, venture | 1 Response

By Denis Pombriant on March 7, 2014
Fifteen is an interesting anniversary.  We tend to think about major anniversaries in ten-year increments with the five-year internode acting more as a gut check.  Fifteen is close enough to the creation that all of the relevant parties are still around and most are still in place.  But it's also far enough in the rearview […]
Posted in Business, Featured Posts | Tagged benioff, Parker Harris, salesforce, salesforce.com, San Francisco, Siebel Systems

By R "Ray" Wang on February 18, 2014
Recent Oracle vs Rimini Street Ruling Is About Customer Software License Rights Not Third Party Maintenance On February 13th, 2014, the United States District Court , District of Nevada Judge Larry Hicks issued a partial summary judgment in the Oracle vs Rimini Street Case. Here's the executive summary to key questions about the ruling*: Is […]
Posted in Business | Tagged 3PM, 3rd party maintenance, Apps Strategy, best practices, BPO, Business process, business process outsourcing, Chief information officer, CIO, Cloud, Cloud Bill of Rights, Cloud BPO, Constellation Research, customer bill of rights, enterprise applications, enterprise apps, Enterprise apps strategy, enterprise software, Enterprise Software Licensee Bill of Rights, enterprise strategy, IT budgets, IT Strategy, license policy, maintenance, maintenance fees, News Analysis, next gen CIO's, oracle, Oracle EBS, PeopleSoft, procurement, R "Ray" Wang;, rimini street, rwang0, sap, Seth Ravin, siebel, Siebel Systems, software bill of rights, Software Insider, software licensing, software licesing and pricing, software maintenance, software ownership, software ownership lifecycle, SoftwareInsider, Third Party Maintenance, user strategy, vendor strategy, vendor threats

By R "Ray" Wang on May 6, 2013
The Gartner Market Share Analysis:CRM Software Report Raises Questions On Accuracy of Market Sizing Reports The recent Gartner report "Market Share Analysis: Customer Relationship Management Software, Worldwide, 2012" has generated some controversy among the enterprise software set.  The report and other reports such as these, are often used for bragging rights by vendors and for […]
Posted in Business, Featured Posts, Technology / Software | Tagged #archat, #GartnerCRM, analyst relations, Apps Strategy, Chief Customer Officer, Chief Marketing Officer, Chief Sales Officer, Chief Service Officer, Cloud, Cloud Computing, Cloud options, Cloud Wars, CMO, Constellation Research, CRM, customer relationship management, customer relationship management (CRM), customer service, CXP, enterprise, enterprise applications, enterprise apps, Enterprise apps strategy, Enterprise Business Apps, Enterprise Business Apps Vendors, enterprise class, enterprise software, erp, gartner, ibm, IIAR, Kirill Tartarinov, Legacy Analyst firms, Market Sizing, Monday's Musings, oracle, Oracle Siebel, R "Ray" Wang;, rwang0, salesforce.com, sap, SAP CRM, siebel, Siebel Systems, Software Insider, Software Insider Index, Software Insider Insights™, SoftwareInsider, vendor strategy

By Chris Selland on February 24, 2012
I've always been of 2 minds when it comes to Salesforce.com ($CRM). As an investor (I don't own any shares) I both follow and invest in tech but tend to be wary of richly-priced companies, which Salesforce certainly is. I've always had a value bent with a warm spot for the type of healthy skepticism […]
Posted in Business, Featured Posts, Technology / Software | Tagged Cloud Computing, Marc Benioff, oracle, salesforce.com, Siebel Systems | 2 Responses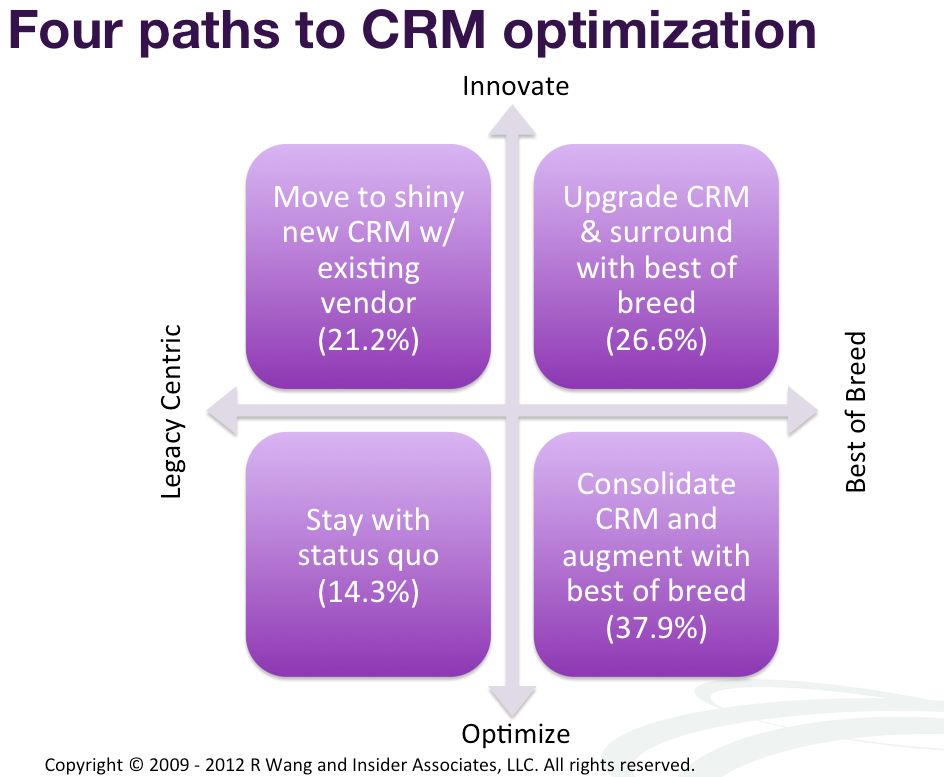 By R "Ray" Wang on February 14, 2012
As with any maturing product category, CRM applications have evolved over time from point applications to best of breed solutions to end-to-end suites. This report examines some common styles of modernization as CRM emerges from the systems of transaction era to the systems of engagement era and beyond.
Posted in Business, Featured Posts | Tagged #techoptimization, Apps Strategy, best practices, business technology, business value, business value framework, BVF, Chief Customer Officer, Chief Marketing Officer, Chief Sales Officer, CIO, CMO, Constellation Research, CRM, Customer Experience, customer experience management, customer service, CXP, enterprise applications, enterprise apps, Enterprise apps strategy, Enterprise Business Apps, enterprise software, enterprise strategy, MIcrosoft Dynamics CRM, next generation, Next generation apps, Next Generation Customer Experience, NextGen, NextGenCXP, Oracle CRM On Demand, Oracle Siebel, R "Ray" Wang;, Research Summary, salesforce.com, SAP CRM, siebel, Siebel Systems, socbiz, social business, Social CRM, Technology Optimization | 1 Response

By Chris Selland on December 21, 2011
Have been following the chatter closely on StockTwits, among the Enterprise Irregulars, and elsewhere after Oracle's big miss. Here's my 2 cents… Cloud/SaaS/OnDemand software (choose your buzzword) is a powerful long-termtrend – buyers are shifting strongly in this direction and it represents a tremendous market and investment opportunity. This is long-term bullish for flagship vendor Salesforce.com ($CRM) and a […]
Posted in Business, Technology / Software, Trends & Concepts | Tagged oracle, Oracle Corporation, salesforce.com, Siebel Systems, software as a service, stocktwits | 2 Responses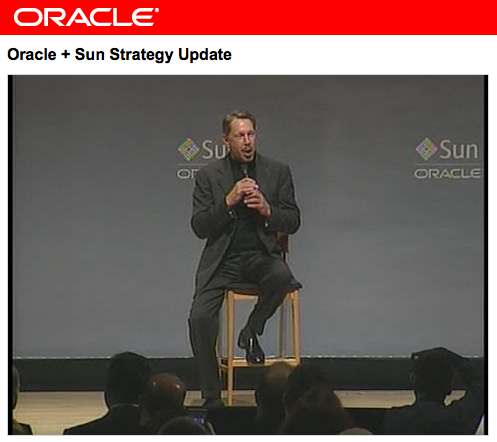 By Michael Coté on May 18, 2010
What's up with "brilliant Sun people" leaving Oracle?
Posted in Business | Tagged Companies, enterprise software, execs, google, oracle, Programming, Siebel Systems, snorkle, Sun