By Phil Fersht on October 2, 2012
In terms of business understanding, initiative, innovation and culture, non-US staff are miles behind local staff. For example, only 43% of outsourcing customer feel their non-US staff understands their business, when compared to 88% of local staff. Yes, this gap will surely close as the industry matures, but I find this talent-chasm unacceptable in today's global marketplace.
Posted in Business, Featured Posts | Tagged BPO, Business Process Outsourcing (BPO), Buyers' Sourcing Best Practices, Current Affairs, Enterprise Irregulars, Global Business Services, HfS Surveys: All our Survey Posts, HfS Surveys: Dropping the "O" Word, HfSResearch.com Homepage, HR Strategy, Innovation in Outsourcing, IT Outsourcing / IT Services, ITO, Outsourcing, Outsourcing and Politics, Outsourcing Research, SIG, Sourcing Change Management, Talent in Sourcing, talent management, The Future of Outsourcing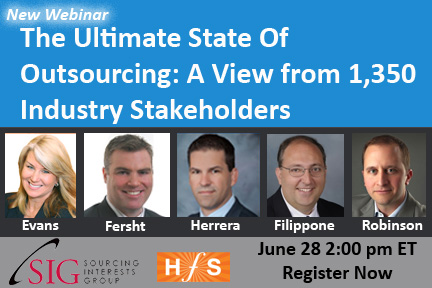 By Phil Fersht on June 24, 2011
We'll be uncovering the results of the new HfS Research survey of 1,350 industry leaders on the State of Outsourcing in 2011.
Posted in Business | Tagged BPO, Captives and Shared Services Strategies, Cloud Computing, Current Affairs, Dawn Evans, Engineering & Supply Chain Outsourcing, Enterprise Irregulars, HR Outsourcing, Industry-specific Outsourcing, Innovation in Outsourcing, IT Outsourcing / IT Services, Knowledge Process Outsourcing, Outsourcing Events, Outsourcing Research, procurement, SIG, social networking, Sourcing Best Practises, Sourcing Interests Group, State of Outsourcing 2011 Study, The Industry Speaks: HfS surveys

By Jason Busch on January 29, 2010
I'm often asked my opinion on events and conferences. While I've
tackled this subject on Spend Matters a number of times, it
seems that I?m getting more and more questions lately from providers
about what events they should sponsor this year…
Posted in Trends & Concepts | Tagged IACCM, ISM, Jason Busch, procurement, SIG, Spend Matters Camp, supply chain