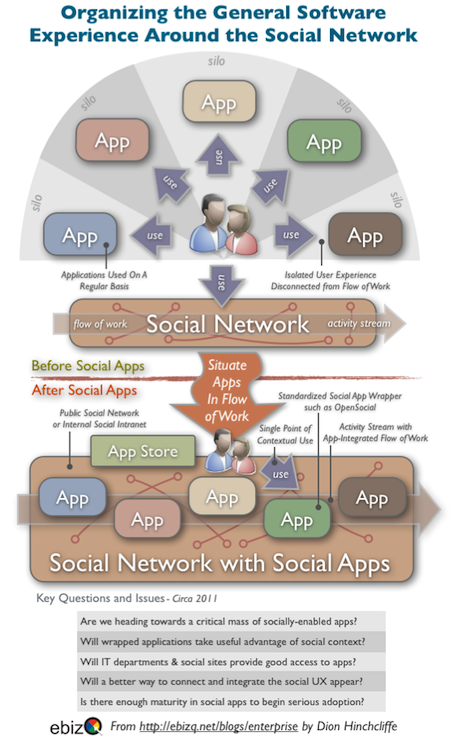 By Dion Hinchcliffe on August 3, 2011
While social networks are still just getting their sea legs in most organizations, the next big leap forward — in addition to social analytics — is likely to be the integration of our productivity and line of business apps into our activity streams. Will this unleash significant new value? Very probably. But it's also possibly the big integration […]
Posted in Featured Posts, Trends & Concepts | Tagged Enterprise 2.0, Enterprise architecture, Enterprise Computing, Industry Trends, mashups, SOA, social business, social computing | 4 Responses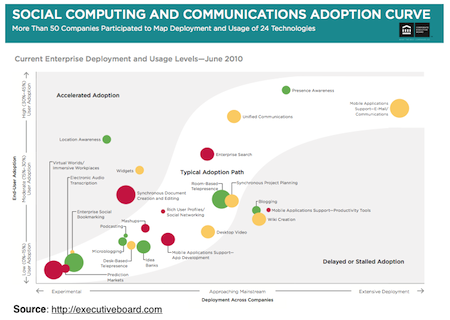 By Dion Hinchcliffe on February 3, 2011
The latest surveys continue to show the social computing provides real business benefits, but is it really as rosy as all that? I take a closer look at what benefits are consistently reported with Enterprise 2.0 and Social Business while looking at w…
Posted in Business, Featured Posts | Tagged Enterprise 2.0, social business, social computing, Social Enterprise, Social Media, Survey | 1 Response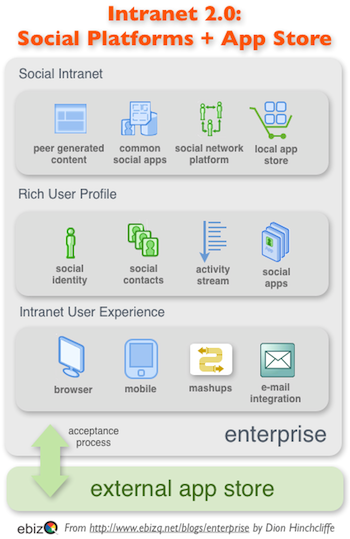 By Dion Hinchcliffe on October 23, 2010
Just in case you've been spending time on a deserted island, you might not know that the Web these days has been moving rapidly towards a profoundly more social and interconnected version of itself. It was just over a year…
Posted in Featured Posts, Technology / Software | Tagged App Store, Enterprise 2.0, Enterprise Computing, Industry Trends, Information technology, intranets, Jive, OpenSocial, social business, social computing, social software, Software design, Web 2.0 | 1 Response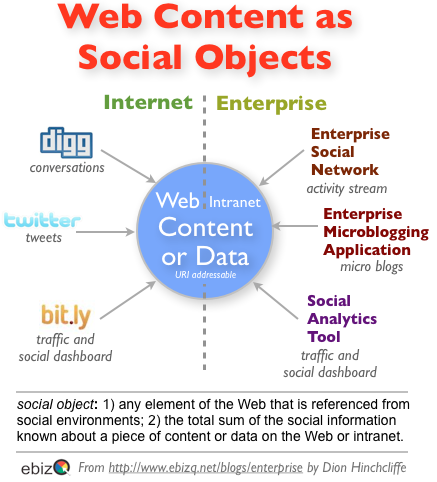 By Dion Hinchcliffe on August 5, 2010
For most of the history of the Web, it's been about pages and links. This simple yet profoundly powerful structure has led to many of the most important capabilities of the Internet including search, analytics, network effects, and many other…
Posted in Trends & Concepts | Tagged activity streams, Enterprise architecture, HTTP, Industry Trends, information management, iPhone, mashups, Open APIs, RSS, social business, social computing, social graph, Social Objects, Syndication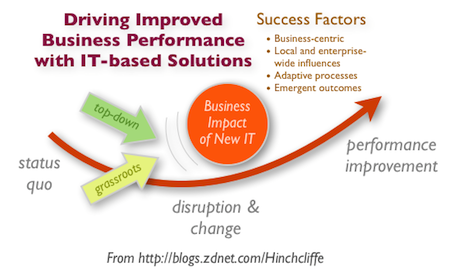 By Dion Hinchcliffe on April 14, 2010
There's been some useful and interesting discussion in the blogosphere recently about collaborative social tools and their potential to improve business performance. Especially good takes have come from Hutch Carpenter, Sameer Patel, Ross Dawson, and ZDNet's own Dennis Howlett.
At the core of this discussion is this essential question: Can social tools reach the "hard numbers" part of a business enough to make a real difference?
Posted in Featured Posts, Trends & Concepts | Tagged Business Models, collaboration, Convergence, Dennis Howlett, Enterprise 2.0, Enterprise Web 2.0, Grassroots Community, Hutch Carpenter, SaaS, social computing, social software, ZDNet

By Phil Wainewright on April 8, 2010
Digital citizens are disgusted at the way the UK parliament rushed Internet censorship provisions into law last night. The political establishment is out of touch with the rapid pace of change unleashed by the Internet.
Posted in Business, Featured Posts | Tagged broadband, copyright, Digital Economy Bill, europe, Law, On Demand, Politics, social computing, Web 2.0 | 1 Response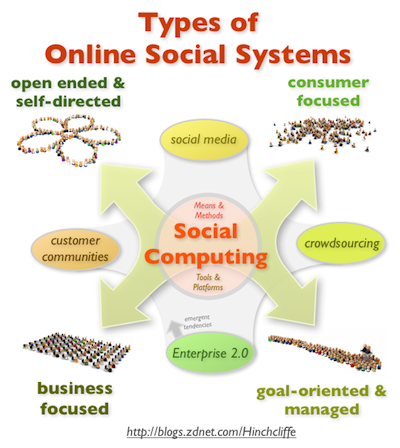 By Dion Hinchcliffe on March 22, 2010
While the debate continues on about whether consumer social networking is an effective model for how we should run our organizations in the future, one under-appreciated online phenomenon is quietly and steadily remaking the very notion of business itself.
The world of online communities has evolved with social computing to become one of the most powerful new models for getting work done. Read my exploration of "When online communities go to work."
Posted in Featured Posts, Trends & Concepts | Tagged blogs, Business Models, Community, community management, Crowdsourcing, Customer Community, Customer Self-Service, Digital Strategy, Encouraging Unintended Uses, Enterprise 2.0, Enterprise Web 2.0, Enterprise Wikis, Grassroots Community, Innovation marketplace, Prediction markets, Products, Right To Remix, social computing, Social CRM, Social Economy, Social Media, social networking, social networks, social software, social web, Web 2.0, Web 2.0 Platforms, Web as Platform, Wikis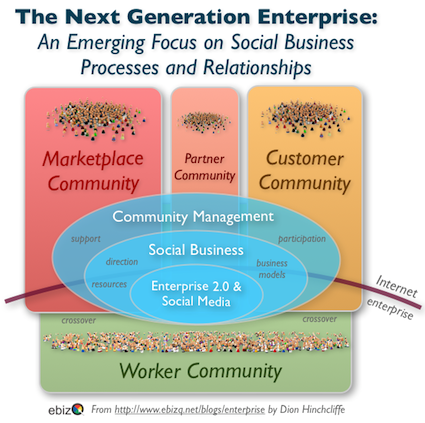 By Dion Hinchcliffe on March 6, 2010
There's been a lot of discussion in Enterprise 2.0 circles recently on the topic of something known as online community management. While precise definitions of this activity can be hard to pin down, most generally accept that it involves the…
Posted in Business, Featured Posts | Tagged Community, community management, CxO Issues, Enterprise 2.0, Enterprise Computing, Open Business Models, Social, social business, social computing | 5 Responses

By Dion Hinchcliffe on March 5, 2010
Though smaller than in year's past, Germany's CeBIT trade show in Hanover this week remains one of the giants of the industry and is a must-attend event for much of Europe's technology leaders. For the last two years, I have been participating in Webciety, a show within a show that explores the emerging 21st century digital lifestyle.
Here is a breakdown of how Europe is looking at Enterprise 2.0 adoption and how it affects us as well.
Posted in Featured Posts, Technology / Software, Trends & Concepts | Tagged Architecture of Participation, blogs, Cloud Computing, collaboration, Collective intelligence, community management, Enterprise 2.0, Enterprise Web 2.0, Enterprise Wikis, mashups, Network effects, Products, SaaS, social computing, Social CRM, Social Economy, Social Media, social networking, social networks, social software, social web, Web 2.0, Web 2.0 Platforms, Wikis

By Phil Wainewright on March 4, 2010
Socialtext, one of the earliest and most established pureplay Enterprise 2.0 vendors, released the latest version of its flagship suite this week, and it set me thinking. Is there a future for standalone Enterprise 2.0 software suites, now that the functionality they offer is increasingly being offered within established enterprise application software suites? The independent […]
Posted in Technology / Software | Tagged adobe, Business process, chatter, collaboration, Enterprise 2.0, social computing, socialtext