By Sameer Patel on August 5, 2013
Five years ago I started this blog because I felt really strongly about an ill conceived contention in a blog post about the promise of RSS. Hours before I read that post, I had no intention or desire to blog but I felt really strongly about my PoV and decided to put up a blog […]
Posted in Trends & Concepts | Tagged Enterprise and Social Sofware, Facebook, Instagram, linkedin, Personal, SaaS and Cloud, social business, Social Enterprise, YELP | 1 Response

By Paul Greenberg on July 1, 2013
In the latest of a breathtaking series of acquisitions, Adobe announces their intent to acquire CRM Watchlist 2013 winner Neolane, a leader in the marketing technology space. Paul Greenberg explains what this means for the market, the companies – and t…
Posted in Business, Featured Posts | Tagged adobe, enterprise software, marketing, Neolane, Social Enterprise

By Paul Greenberg on July 1, 2013
Conference Coverage Okay, I admit it. I failed. I broke a promise. I wanted to provide individual coverage for each of the conferences that I've attended in the last 2 months or so, but there are so many I just couldn't keep up. I covered SugarCRM SugarCon 2013, Infor, and Infusionsoft and didn't get to Clarabridge, Lithium LiNC, NetSuite […]
Posted in Business, Featured Posts | Tagged Clarabridge, enterprise software, InfusionSoft, lithium, netsuite, nsw13, Pegasystems, sap, sapphirenow, Social Enterprise, SugarCon, sugarcrm | 2 Responses

By R "Ray" Wang on June 12, 2013
Forward And Commentary Constellation Research pioneered the complete set of front office and back office use cases for social business in 2010. This report provides insight into a key mega-area — lead to deal use cases. This best practices research report offers insight into two of Constellation's primary research themes, the Next-Generation Customer Experience and […]
Posted in Business | Tagged Chief information officer, Chief Marketing Officer, Chief Revenue Officer, Chief Sales Officer, CIO, Constellation Research, Engage, engagement, Engagement Apps, enterprise, Enterprise 2.0, enterprise applications, enterprise apps, Enterprise apps strategy, Enterprise Business Apps, enterprise software, Lead to deal, R "Ray" Wang;, Research Report, Research Summary, rwang0, sales, socbiz, social business, Social Business Software, social business strategist, Social Enterprise, social enterprise apps, Social Media, social sales insights, Software Insider, SoftwareInsider | 2 Responses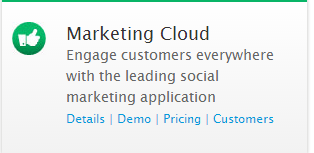 By Paul Greenberg on June 4, 2013
What makes this one of salesforce's most important acquisitions ever is Marc Benioff's proclamation last August that the Marketing Cloud is their next "billion dollar" business.
Posted in Business, Featured Posts | Tagged Cloud, enterprise software, sfexact, Social Enterprise | 9 Responses

By Paul Greenberg on May 14, 2013
SugarCRM has been one of the nicest success stories in the CRM industry, often taking what were seemingly difficult steps and turning it into gold. There are at a nodal point and have a couple of things that they have to do to cross over to the next l…
Posted in Business | Tagged 5conf, Social Enterprise, SugarCon, sugarcrm, Tech Industry, Waldorf-Astoria Hotel | 1 Response

By Paul Greenberg on March 21, 2013
The 'Young and Hot' group includes two CRM Idol 2012 winners – Artesian Solutions and Crowdtap – and those companies who didn't win but are worth being on a radar.
Posted in Business, Featured Posts, Technology / Software | Tagged CRM Watchlist, CRM Watchlist 2013, Emerging Tech, Social Enterprise | 2 Responses

By Paul Greenberg on March 7, 2013
There are six winners that cluster around the "social platform" category. This is such a quickly maturing but not mature area that I actually wrote around 10,000 words on them and thus am splitting up the posts into two. One today and the other on Mon…
Posted in Business, Featured Posts, Technology / Software | Tagged CRM Watchlist, CRM Watchlist 2013, Emerging Tech, Social Enterprise | 2 Responses

By Paul Greenberg on February 28, 2013
This is probably the most eclectic category – because its so disparate – but its the foundation for many a company's core business operations – sales, business processes and analytics. Three hot areas. Our winners this year are all accomplished. Let's…
Posted in Business, Featured Posts, Technology / Software | Tagged CRM, CRM Watchlist, CRM Watchlist 2013, Emerging Tech, Social Enterprise, Tech Industry

By Paul Greenberg on February 21, 2013
We have three winners and four repeats. Huh? Well, 2012 winner Sword Ciboodle was acquired by KANA who also won last year. But this year our winners – KANA, Moxie and Parature – have far more daunting tasks than they ever did before. Herculean if you w…
Posted in Business, Featured Posts, Technology / Software | Tagged $KANA, CRM, CRM Watchlist, CRM Watchlist 2013, enterprise software, Moxie, Parature, Social Enterprise