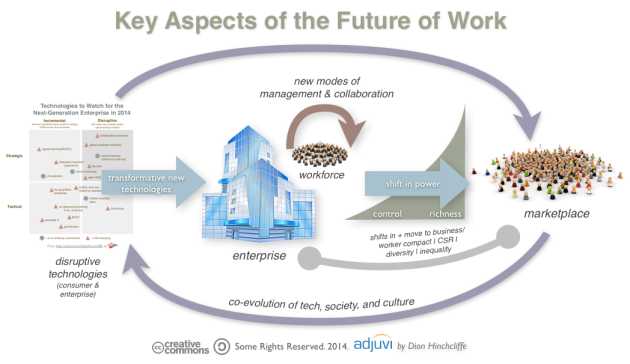 By Dion Hinchcliffe on March 27, 2014
Much has been made recently about one of the stand out trends of the times we live in: Everything is becoming infused with technology. Software is eating the world it is said. Some have claimed that next it might even eat the jobs, which to some degree is almost certainly the case. With only a […]
Posted in Business, Featured Posts | Tagged Analysis, CoIT, Crowdsourcing, peer production, social business, Social Media, strategy, The Enterprise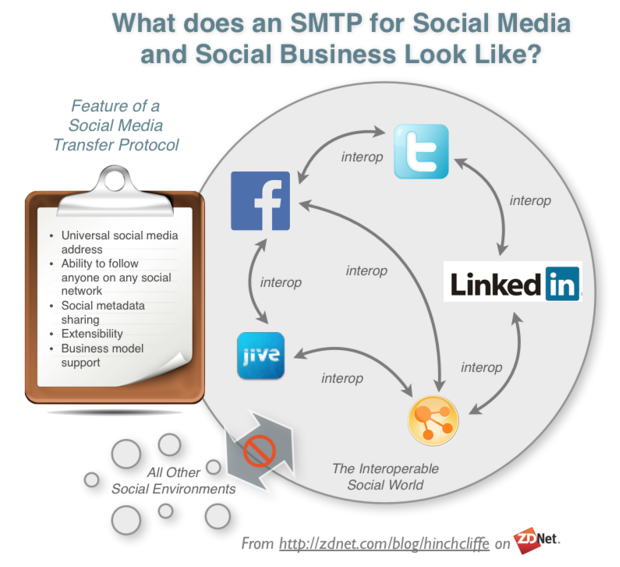 By Dion Hinchcliffe on March 6, 2014
A seemingly esoteric question actually turns out to be vital for dealing effectively with the trend toward silos of communication everywhere, from social networks to online communities.
Posted in Featured Posts, Trends & Concepts | Tagged Social Media, Social network | 1 Response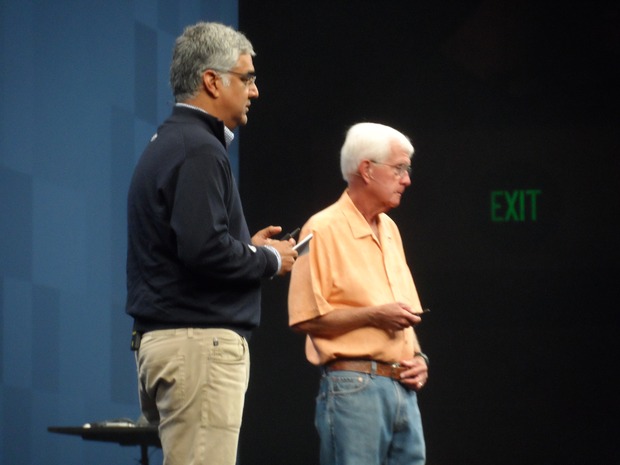 By Brian Sommer on February 27, 2014
Identified was bought by Workday and Monster acquired Gozaik and TalentBin. Smart market watchers should be asking "Why" these deals were done and what these deals could do to recruiting/HR vendors, competition and the companies that would benefit from re-imagined HR processes.
Posted in Business, Featured Posts | Tagged Entelo, Identified, recruitment, Social Media, TalentBin, workday | 1 Response
By Denis Pombriant on February 5, 2014
or what science is this? I have written often about the connection between CRM and economics, almost as if one explains the other.  And while I still believe it in part, my thinking has evolved and become more nuanced over the last fifteen years to the point that today I want to discuss my evolution. […]
Posted in Featured Posts, Trends & Concepts | Tagged CRM, Philosophy, Renaissance, Social Media, Social science | 2 Responses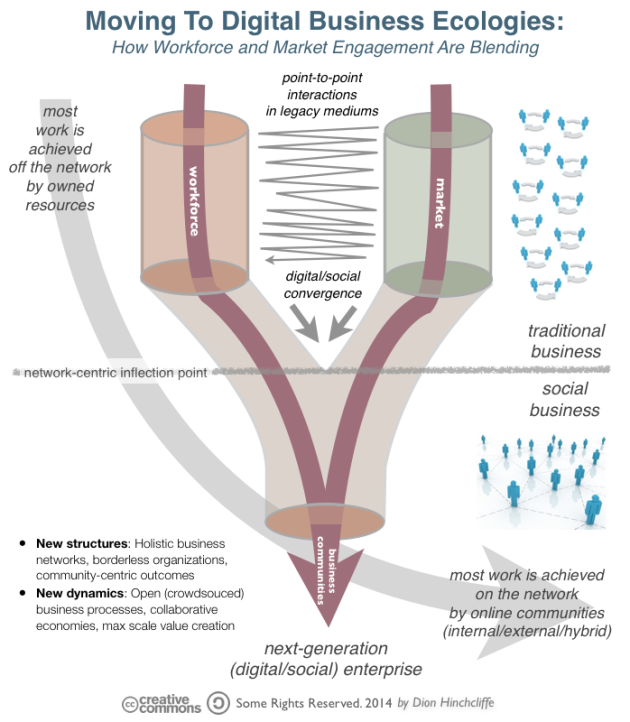 By Dion Hinchcliffe on February 4, 2014
As we've watched digital networks reshape just about every aspect of business these days, I've found that we've struggled to come up with the right words and ways to describe a very different way of working. From vast app stores and pervasive streams of big data to enterprise social networks and customer engagement, the rules […]
Posted in Business | Tagged Analysis, Crowdsourcing, peer production, social business, Social Media, strategy, The Enterprise | 2 Responses

By David Terrar on January 27, 2014
At our social business event back in September, during Social Media Week London, we could feel something in the atmosphere.  A mood in the room, a sense of excitement and change.  Digital disruption is happening at a rapid rate.  Everyone's business model is under threat from the move to digital across all industries.  The average […]
Posted in Business | Tagged Agile Elephant, London, social business, social collaboration, Social Media

By R "Ray" Wang on January 23, 2014
HootSuite Prepares For Enterprise Growth On January 22nd, 2014, Hootsuite announced its acquisition of analytics provider uberVU for an undisclosed sum. The Bucharest, Romania and Cambridge, MA based software company brings 42 employees and over 200 customers to HootSuite. Key insights for customers and prospects include: uberVu provides Hootsuite with enterprise class analytics. uberVU's technology […]
Posted in Business | Tagged acquisitions, analytics, Apps Strategy, Ariad, Business Analytics, Chief Marketing Officer, CMO, Constellation Research, CustExp, customer engagement, Customer Experience, customer service, CXP, Dassault Systems, Data to Decisions, DDB, enterprise applications, enterprise apps, Enterprise apps strategy, enterprise software, fujitsu, Getty Images, Giant Eagle, hootsuite, Indiegogo, JDRF, L'Occitane, Method, NBC, News Analysis, Phillips, R "Ray" Wang;, rwang0, SC Johnson, socbiz, social analytics, social business, social customer insights, social marketing insights, Social Media, social media monitoring, social technologies, Software Insider, SoftwareInsider, uberVU, user strategy, vendor strategy, Wolverine Worldwide.

By Esteban Kolsky on January 9, 2014
If you follow my blog and my writings (and rantings, and presentations, and panels — if you ever talked to me about this) you know that I am not a big fan of using Twitter for Customer Service. It is not that it is not possible to do it well, but it is that the […]
Posted in Business, Featured Posts | Tagged Amazon, customer service, Social Media, Twitter

By R "Ray" Wang on December 27, 2013
Every Brand Should Have A Plan For A Data Breach The confluence of centralized personally identifiable information, reliance on digital channels, ease of hacking of magnetic stripes, and the application of the Willy Sutton rule ( a.k.a. you rob banks because that's where the money is) improve the odds that many organizations will face a […]
Posted in Business, Featured Posts | Tagged Apps Strategy, best practices, Big Data, BigData, business strategy, Business Transformation, Chief Customer Officer, Chief executive officer, Chief Marketing Officer, CMO, Crisis Communications, CRM, CustExp, customer engagement, Customer Experience, customer experience management, customer relationship management, customer service, customer service; -business, CXP, Cyber security, data breach, data privacy, Digital Business, Digital Disruption, Digital Divide, Digital identity, digital marketing, Digital Strategy, engagement, enterprise applications, enterprise apps, Enterprise apps strategy, enterprise software, Identity, Identity management, Infosecurity, Leadership, marketing, Marketing strategy, Marshall's, Next Gen Customer Experience, Next Gen CXP, Privacy, Privacy Rights, R "Ray" Wang;, rwang0, security, social business, Social Media, Software Insider, SoftwareInsider, Target, TJ Maxx, TJX, vendor strategy | 2 Responses

By Susan Scrupski on December 5, 2013
"I'll tell you what's wrong with it…  It's dead!" So, which is it dead or not dead?   There is so much confusion in the market about what "Social Business" is, it might as well be a dead parrot (too).  And there is no shortage of people who come at this conversation with a perspective […]
Posted in Featured Posts, Trends & Concepts | Tagged 2.0 Adoption Council, Change Agents Worldwide, deloitte, Enterprise 2.0, MIT SMR, Muhammad Yunus, Nilofer Merchant, research, social business, social collaboration, Social Media, Socialcast, Trends Research | 1 Response