By Sameer Patel on January 14, 2015
So, Ingrid Lunden at TechCrunch announced that Facebook has finally entered the world of work. As far as the consumer market goes, think about it. Facebook is worth 212 billion dollars by having a strong hold on your actions, interests, and preferences from 5pm to 9am and some fraction of your work day. If only it could […]
Posted in Featured Posts, Technology / Software | Tagged Customer Interaction and SocialCRM, Enterprise and Social Sofware, Facebook, Facebook @work, microsoft, sap, SAP Jam, Social network, yammer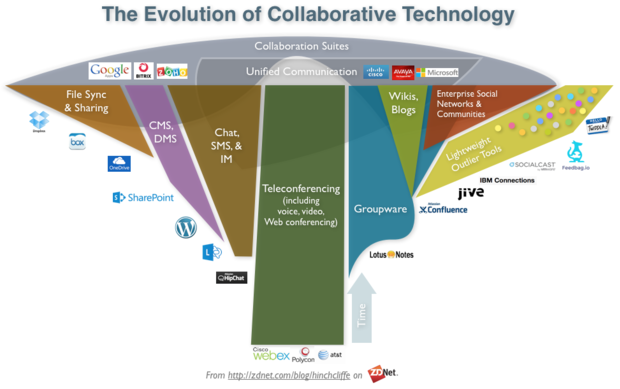 By Dion Hinchcliffe on May 27, 2014
Two tracks seem to be emerging with today's enterprise collaboration tools. Either they're becoming full-sized suites with the kitchen sink, or they're focusing making a few core features work better than anyone else.
Posted in Featured Posts, Technology / Software | Tagged collaboration, Collaborative software, Social network | 1 Response

By Susan Scrupski on April 9, 2014
It should come as no surprise that a one-dimensional approach to network "deployment" will yield lackluster results.  In the heyday of the Enterprise 2.0 movement, it was largely IT that introduced social networks to the workforce.  The mistake that many customers made in those early days was viewing social networks as a technology platform vs. […]
Posted in Trends & Concepts | Tagged adoption, change agents, Change Management, Digital Workplace, Enterprise 2.0, future of work, Leadership, Organizational Change, Social network, social network analysis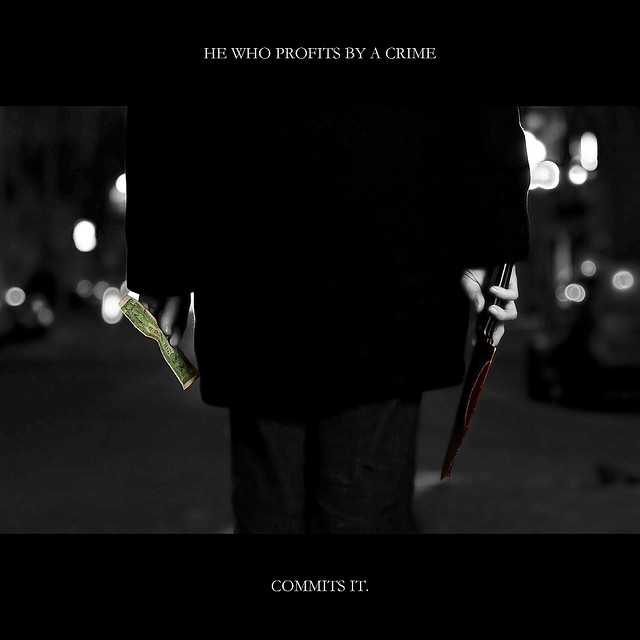 By Anshu Sharma on March 19, 2014
Who owns the behavior of an employee on the social networks? In a world where we have all gone BYOD, and I would posit – gone BYOS (Bring your own "Social Network") – who owns what? And who is responsible when an error is made by the employee? What is an error? What is an […]
Posted in Featured Posts, Trends & Concepts | Tagged Facebook, linkedin, oracle, Social network, social sales, Twitter | 1 Response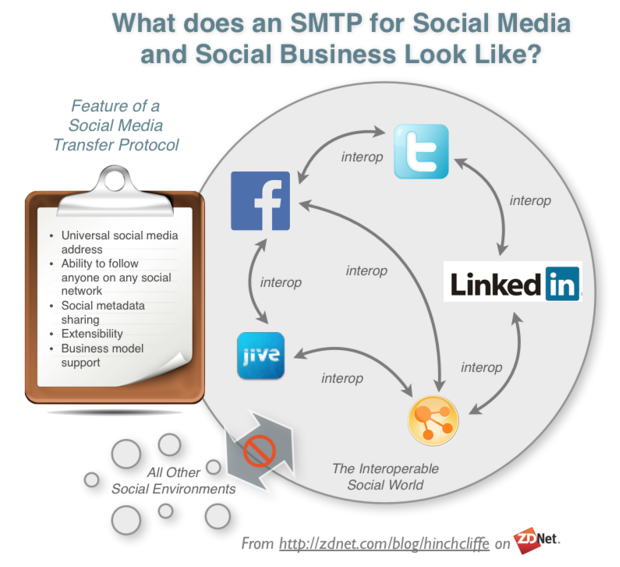 By Dion Hinchcliffe on March 6, 2014
A seemingly esoteric question actually turns out to be vital for dealing effectively with the trend toward silos of communication everywhere, from social networks to online communities.
Posted in Featured Posts, Trends & Concepts | Tagged Social Media, Social network | 1 Response

By Susan Scrupski on November 14, 2013
Let's be honest: change bites!  Most people do not like change.  Change brings uncertainty, a loss of security and control, a fleeting feeling of helplessness, and even panic.  Helping large organizations embrace disruptive change is a tall order.  What's needed are roadmaps, play books, guidance, intelligence, patience, and a little inspiration.  But, change can be […]
Posted in Featured Posts, Trends & Concepts | Tagged adoption, Change Agents Worldwide, Salesforce Chatter, salesforce.com, social collaboration, Social network, WIIFM

By David Terrar on November 12, 2013
As part of London's Social Media Week we put on an event called Social Business – The Patchwork Elephant Revisited asking "What next for Social Business?".  We were kindly sponsored by our friends here at CompareTheCloud.net and we introduced the event and the speakers in an earlier post.  The idea was to get 8 different […]
Posted in Trends & Concepts | Tagged London, Social Media, Social network, Social Technology

By Esteban Kolsky on March 6, 2013
Yep, you read that right. A snap. Simple. Uncomplicated. Two bits and change. a Drachma of work (well, probably the wrong analogy). And you don't even need to buy, invest, change, or even do something different.  You got all it takes, most of what it needs (you may need some software – but i am […]
Posted in Featured Posts, Trends & Concepts | Tagged Change Management, CompuServe, Facebook, Performance indicator, social business, Social CRM, Social Media, Social network

By Susan Scrupski on February 25, 2013
  Every social graph tells a story.  In this sweeping visualization of nodes and connections, you can see the shape of my career history and relationships.  This imprint of my LinkedIn social network was generated yesterday. You can see how new contacts and interrelationships jettisoned off from my base when I started to work at 7Summits. […]
Posted in Featured Posts, Trends & Concepts | Tagged Dachis Group, ibm, Jive, linkedin, lithium, research, Social Media, Social network, social networking, University of Texas Austin, UT Austin

By Sameer Patel on February 24, 2013
This snippet by way of Stowe Boyd really struck a chord with me with respect to the difference between social networks and enterprise social networks. Sheryl Sandberg of Facebook got called out by Maureen Dowd in this New York TImes article: "Sandberg may mean well, and she may be setting up a run for national […]
Posted in Trends & Concepts | Tagged Collaborative Organizations, Enterprise and Social Sofware, Facebook, New York Times, Sheryl Sandberg, social media marketing, Social network | 3 Responses