By Bob Warfield on January 19, 2011
Matt McAdams writes an interesting guest post for Phil Wainewright's ZDNet blog, Software as Services.  I knew when I read the snarky title, "Database.com, nice name, shame about the platform," I had to check it out. The key issue McAdams seems to have with Database.com (aside from the fact his own company's vision of PaaS is […]
Posted in Featured Posts, Technology / Software | Tagged Cloud, Cloud Computing, DaaS, Data as a Service, database.com, latency, phil wainewright, salesforce.com, Software development

By Bob Warfield on November 4, 2010
The EI discussion about Microsoft's poor handling of Silverlight brought out the different viewpoints swinging. The "RIA was never a good idea" camp was in full force as was the "this confirms everything about HTML5″ and the "Flash is on the same train as Silverlight" camps. I don't see these developments nor the evolution of […]
Posted in Featured Posts, Technology / Software | Tagged platforms, Software development, user interface | 1 Response

By Jeff Nolan on November 2, 2010
One of my favorite services, Feedly, published on their blog the roadmap for their next major release. Obviously this is not a new practice and through various mechanism companies make available for comment their product development process. In recent years the evolution of "ideation" applications has provided companies of all types a powerful capability for […]
Posted in Business | Tagged Core competency, Feedly, New product development, road map, Software development, startups | 1 Response

By Bob Warfield on September 20, 2010
So here I am, 5 days after the big announcement, and still no new Twitter UI.  We just finished a weekend, which would seem to me like a logical time to roll it out to the remainder of the audience.  No joy.  WTF, over? Is Twitter not multitenant, or what?  I sure they look with […]
Posted in Featured Posts, Technology / Software | Tagged Cloud Computing, google, Online Communities, SaaS, social networking, Software development, TechCrunch, Twitter, Web 2.0 | 1 Response

By Michael Coté on September 15, 2010
We discuss new features in CodeCollaborator 6.0 and then see a demo.
Posted in Technology / Software | Tagged demos, Development Tools, Programming, redmonk, RedMonkTV, SmartBear, Software development | 1 Response

By Bob Warfield on September 9, 2010
How ironic.  On the same day that MG Seigler was penning one of his characteristically snarky posts (snark is one of the ways Techcrunch pursues its Follower Economy) about how Android isn't really open, Apple announces the return of Flash to the iWorld. Adobe's stock price is cooking this morning as a result (I wonder […]
Posted in Featured Posts, Technology / Software | Tagged Adobe Systems, android, App Store, apple, competition, flash, gordon gecko, greed, iPhone, opennes, platforms, RIA, Software development, strategy, user interface | 3 Responses

By Bob Warfield on August 11, 2010
I love that line from Paul Graham's post about what went wrong with Yahoo: In technology, once you have bad programmers, you're doomed. I can't think of an instance where a company has sunk into technical mediocrity and recovered. Good programmers want to work with other good programmers. So once the quality of programmers at […]
Posted in Business, Featured Posts | Tagged Business, Paul Graham, Software development, Yahoo

By Bob Warfield on August 2, 2010
I recently was asked (along with others), "What language a budding computer scientist should try to study in school? Fundamentally, it's the wrong question.  This will sound harsh, but alas, it is only reality.  Or, if you like quotes: "I never did give anybody hell. I just told the truth and they thought it was […]
Posted in Trends & Concepts | Tagged children, Computer programming, Computer science, prodigy, programming language, Python, Software development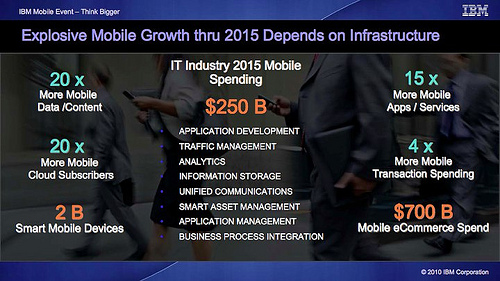 By Michael Coté on June 23, 2010
IBM says the mobile market is around $250B and is looking to grab a part of the pie.
Posted in Featured Posts, Technology / Software | Tagged conferences, enterprise software, ibm, IBM Research, IBM WebSphere, IBMLab, IBMSWG, iPhone, iPhone 3G, mobile, Mobile Computing, Software development

By Bob Warfield on May 6, 2010
So I'm reading Bray's blog as usual, and I come across his argument against Flash that I see occasionally–namely, that all Flash UI sucks. Why?  Here are his words: What's not to like, then? Well, the user experience, which in my experience is fourth-rate for anything but games; No "Back" button, feaugh. And of the […]
Posted in Trends & Concepts | Tagged 3270 terminal, Adobe Flash, Ajax, flash, google, RIA, Software development, Tim Bray, user interface | 1 Response