By Denis Pombriant on May 27, 2014
Zach Nelson, CEO of NetSuite, was talking about CRM a lot in his recent keynote for SuiteWorld, his company's user meeting that was held in San Jose last week. You might not think that's unusual given that the company has a whole suite of cloud-based ERP-CRM-eCommerce, but it represents a departure and one that I […]
Posted in Featured Posts, Technology / Software | Tagged #NSW14, netsuite, SuiteWorld

By Esteban Kolsky on May 29, 2013
This is the first in a series of posts where I just try to catch up on the latest shows around the country I attended between April and May. The "spring season" was so well populated, and so busy, that I almost had no chance to write about current events.  I have four or five […]
Posted in Business, Featured Posts | Tagged autodesk, Capgemini, InfusionSoft, netsuite, nsw13, SuiteWorld, Williams Sonoma

By Denis Pombriant on May 22, 2013
SuiteWorld reveals cloud computing ERP's mainstream moment NetSuite bloomed this week, in part because of a very well produced user meeting, SuiteWorld, held in San Jose but also because there can no longer be any doubt that the market for ERP technology is turning to the Cloud. What was once unthinkable — that ERP could […]
Posted in Business, Featured Posts, Technology / Software | Tagged netsuite, nsw13, SuiteWorld

By Vinnie Mirchandani on December 5, 2012
The Foreigner hit tells the story of a fan who could not get into a show,  but even standing outside in the rain, was so inspired by the music that he bought a used guitar the next morning and went on to become a rock star. Does your event aspire to create similar Jukebox heroes? […]
Posted in Business, Featured Posts | Tagged #wday, Cognizant Technology Solutions, df12, Dreamforce, Moscone Center, netsuite, Oracle OpenWorld, sapphirenow, SuiteWorld, Workday Rising | 1 Response

By Zoli Erdos on October 3, 2012
Recently I've attended two conferences two weeks apart in San Francisco, and the difference in style is shocking.  One did not even feel like a conference, rather a Festival – Woodstock, Mardi Gras, SXSW – your pick:-)  The other a decidedly more "closed" traditional corporate conference, so much so, that fellow commentators actually compared it […]
Posted in Featured Posts, Trends & Concepts | Tagged Box, Box.net, conferences, df12, Dreamforce, festival, Moscone, Moscone Center, netsuite, OOW, oow12, opennes, oracle, salesforce.com, San Francisco, SuiteWorld, workday | 4 Responses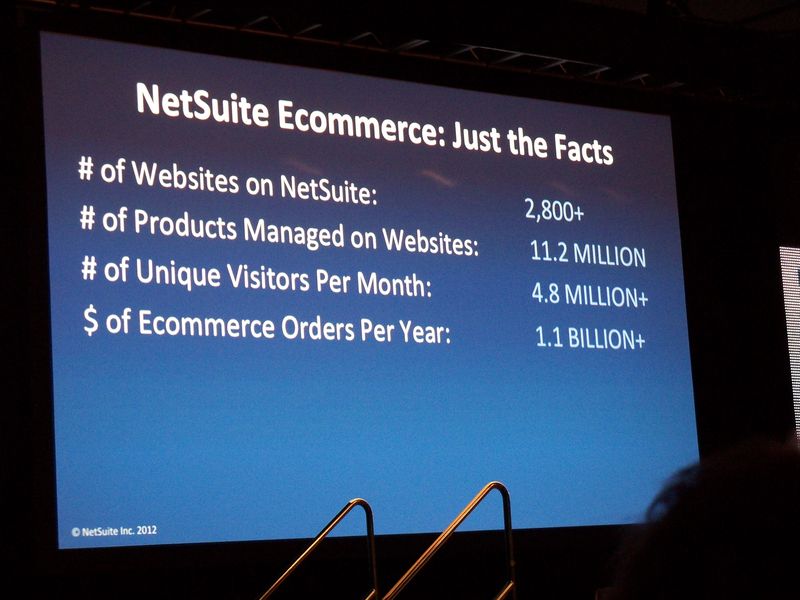 By Vinnie Mirchandani on May 21, 2012
At SuiteWorld last week, there was plenty of excitement about NetSuite's successes in two market segments – subs of large multi-nationals ("two-tier" implementations) and fast-growing/recently public companies like Groupon and Splunk. You can slice its momentum by verticals or geography, but to me, the major reason for NetSuite's appeal to a wide range of customers […]
Posted in Business, Technology / Software | Tagged eBay, Groupon, netsuite, Splunk, SuiteWorld, Zach Nelson

By Brian Sommer on May 21, 2012
Part 3 – NetSuite made a significant number of product announcements at its recent SuiteWorld event. It's the volume and speed of their R&D group that other vendors should note.
Posted in Technology / Software | Tagged Evan Goldberg, netsuite, SuiteWorld, User Experience, user interface, Zach Nelson

By Brian Sommer on May 21, 2012
Part 2 of NetSuite SuiteWorld big points: The Partner ecosystem of NetSuite is definitely gaining momentum. But, is the growth consistent with other major platform ecosystems? How is it differing?
Posted in Business | Tagged Accenture, apple, deloitte, ecosystem, Jim McGeever, netsuite, SuiteWorld, Zach Nelson | 1 Response

By Brian Sommer on May 21, 2012
So what were the big takeaways from the NetSuite SuiteWorld conference last week? In the first of a three part assessment, see how the new commerce engine may be creating a new for new analytic capabilities within NetSuite's product line.
Posted in Business, Featured Posts, Technology / Software | Tagged netsuite, SuccessFactors, SuiteWorld, Zach Nelson | 1 Response

By Denis Pombriant on May 21, 2012
This spring has seen a raft of software company events and announcements and they've been good meetings full of real news and important new developments.  It is as if these companies bided their time during the worst of the recession building new product, thinking about the future and how customers will use their technologies.  It […]
Posted in Business, Featured Posts, Technology / Software | Tagged CRM, erp, netsuite, SuiteWorld | 2 Responses