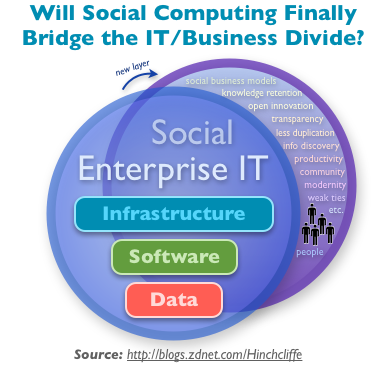 By Dion Hinchcliffe on February 28, 2010
Marc Benioff, CEO of Salesforce, the well-known CRM and cloud computing company (and now soon-to-be social software vendor) wrote a guest post on TechCrunch late last week making the case for "why enterprise software should take its cues from Facebook and become more social."
What then does this mean for the future of IT and what impacts will social computing ultimately have on the enterprise.
Posted in Featured Posts, Technology / Software | Tagged Architecture of Participation, Cloud Computing, Collective intelligence, Community, Digital Strategy, Enterprise 2.0, Enterprise Web 2.0, Network effects, SaaS, social computing, Social Economy, Social Media, social networking, social software, social web, The Social Graph, Web 2.0, Web 2.0 Platforms, Web as Platform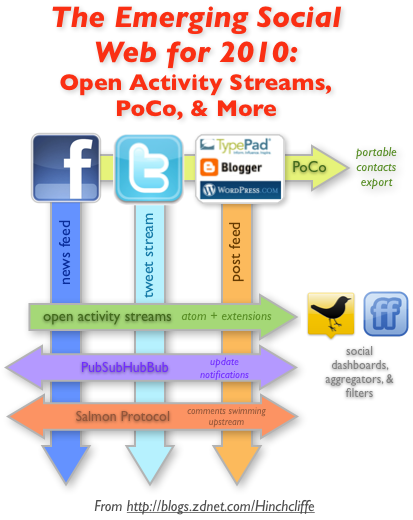 By Dion Hinchcliffe on January 20, 2010
The emergence of Facebook, Twitter, and the rest of the social Web as a global force in the last several years has done a great deal to highlight their potential to fundamentally alter the way we communicate and collaborate both at home and in business. However, despite the movement of social computing into our daily lives we're all clearly on a long journey together as the technologies themselves emerge from infancy.
The state-of-the-art today when it comes to the social computing environments that surround us now — in our browsers, mobile devices, and elsewhere — underscore how much more we have left to do to make these new modes of digital conversation and discourse become mature, efficient, safe, and truly useful.
Fortunately the Web doesn't stand still and there continues continues to be rapid research and development when it comes to the mechanics of today's online social universe. There are many new efforts under way to refine and improve the world of social media, some of which we'll explore here and many which are just beginning…
Posted in Featured Posts, Trends & Concepts | Tagged atom, Badges, blogs, collaboration, Community, Convergence, Enterprise Web 2.0, Facebook, Gadgets, Identity 2.0, Lightweight Service Models, Loosely Joined, microformats, Open APIs, openid, Products, RSS, SaaS, Small Pieces, social computing, Social Media, social networking, social networks, social software, social web, Structured Content, The Social Graph, Twitter, User Generated Content, Web 2.0, Web 2.0 Platforms, Web as Platform, Web services, widgets, Wikis