By R "Ray" Wang on December 23, 2014
Digital Strategy From The Analysts At Constellation Research Constellation's year end checklist offers suggestions designed to enable you to take control of your digital strategy in 2015. Consider these actions to ensure you dominate digital disruption in the new year. 1. Matrix Commerce: Scrub your data By Guy Courtin When it comes to Matrix Commerce, […]
Posted in Business, Featured Posts | Tagged 2015, Apps Strategy, Augmented Humanity, Authentic, Authentic Business, best of breed, best practices, Big Data, Big Data Business Models, BigData, bring-your-own-device, Business Analytics, business strategy, Business Transformation, BYOD, CEO, Chief Collaboration Officer, Chief Creative Officer, Chief Customer Officer, Chief Digital Officer, Chief executive officer, Chief Financial Officer, Chief HR Officer, Chief information officer, Chief Information Security Officer, Chief Marketing Officer, Chief People Officer, Chief procurement officer, Chief Revenue Officer, Chief Sales Officer, Chief Security Officer, Chief Service Officer, Chief Technology Officer, CHRO, CIO, Cloud, Cloud Computing, Cloud options, CMO, CoIT, CoIT and the New CSuite, collaboration, collaboration software, Constellation Research, Corporate Strategy, CTO, CustExp, customer engagement, Customer Experience, customer service, Customer Support, CXM, CXO, CXP, Data to Decisions, Data2Decisions, digital, Digital Business, digital commerce, Digital Disruption, Digital DNA, Digital identity, digital marketing, Digital Strategy, Digital Transformation, DigitalBiz, digitaltransformation, E-Commerce, e-Signature, early adoptions, engagement, enterprise applications, enterprise apps, Enterprise apps strategy, enterprise class, enterprise software, enterprise strategy, future of work, HR, innovation, IT Strategy, journey maps, marketing, Marketing Automation, Next Gen Customer, Next Gen Customer Experience, Next Gen CXP, Next generation apps, Privacy, Privacy Rights, Private Cloud, Private Clouds, public cloud, R "Ray" Wang;, rwang0, safety, safety and privacy, Software Insider, SoftwareInsider, strategy, supply chain, trends, User Experience, user strategy, vendor strategy

By R "Ray" Wang on December 8, 2014
Mobile Is The Main Entry Point For Digital Transformation Mobile initiatives provide an entry point into digital. Mobile first is more than a mantra. Why? By applying design thinking to solving specific and purposeful tasks and processes, organizations can rethink the digital journey with mobile projects. More importantly, mobile enables organizations to break the silos.
Posted in Featured Posts, Technology / Software | Tagged Android (operating system), data visualization, design, iOS, mobile app, usability, User Experience, user interface, User interface design | 2 Responses

By R "Ray" Wang on January 7, 2014
Dynamics CRM Gains Key Technology and Team To Take Existing Customer Care Assets To Next Level On January 7th, 2014, The Microsoft Dynamics CRM team announced a definitive agreement to acquire Herndon, VA based Parature for an undisclosed sum.  This acquisition is Microsoft Dynamic's CRM's largest to date. Parature is an East Coast software start-up […]
Posted in Business | Tagged #msftdynamics, #msftdynamicscrm, acquisition, acquisitions, Apps Strategy, Bob Stutz, Chief Customer Officer, Chief Marketing Officer, Chief Service Officer, Ching-Ho Fung, CIO, Cloud, Constellation Research, CRM, CustExp, customer care, customer engagement, Customer Experience, customer experience management, customer relationship management, customer service, Customer Support, CXP, Digital Business, Duke Chung, enterprise applications, enterprise apps, Enterprise apps strategy, enterprise software, enterprise strategy, Jujar Singh, mergers, Mergers And Acquisitions, microsoft, Microsoft Dynamics, MIcrosoft Dynamics CRM, News Analysis, Next Generation Customer Experience, NextGen, NextGenCXP, Parature, R "Ray" Wang;, rwang0, SaaS, service, social service, social support, Software Insider, Software Vendors, SoftwareInsider, support, User Experience, vendor strategy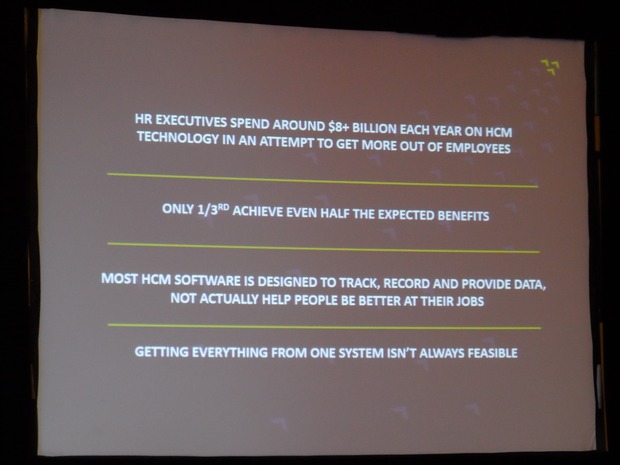 By Brian Sommer on November 18, 2013
If you thought HR software comprised Payroll, HRMS and Talent Management modules, think again. There are amazing new products that serve more than just your company. LinkedIn has become the biggest of these PERSON-based products and how well these solutions fit with solutions designed for CORPORATIONS should make for interesting viewing. Read (and comment on) this three part piece!
Posted in Business, Featured Posts, Technology / Software | Tagged Big Data, corporation, HR, HRMS, linkedin, Peoplefluent, SumTotal Systems, User Experience, workday | 3 Responses

By Jason Corsello on November 12, 2013
Think about the overall employee "user experience" that HR managers have a hand in defining and creating: It starts, logically, with the building and the office space. Then there's the company culture — and all of the variables that go into that — that HR helps shape as part of the employee experience. For many […]
Posted in Featured Posts, Technology / Software | Tagged Human resources, Organizational culture, talent management, User Experience, ux | 5 Responses

By R "Ray" Wang on September 23, 2013
Past Oracle Open Worlds Have Disappointed Customers and Partners Let's be frank.  The past five years at Oracle Open World have disappointed even the faithful.   The over emphasis on hardware marketing and revisionist history on cloud adoption bored audiences.  The $1M paid advertorial keynotes had people walking out on the presenters 15 minutes into the […]
Posted in Business, Featured Posts, Technology / Software | Tagged #oow13, acquisition, Apps Strategy, Big Data, BigData, Box, Business Analytics, business intelligence, CEO, CFO, Chief Customer Officer, Chief Digital Officer, Chief Financial Officer, Chief HR Officer, Chief information officer, Chief Marketing Officer, Chief People Officer, CIO, Cloud, Cloud Computing, Cloud Wars, CMO, collaboration, Constellation Research, Constellation SuperNova Awards, Consumer Tech, Consumerization of IT, Corporate Strategy, Corporate Vision, Corporate Vision And Strategy, CRM, CustExp, Customer Experience, customer experience management, CXP, Data to Decisions, Digital Business, digital marketing, Digital Marketing Transformation, disruptive, disruptive business models, disruptive technologies, Disruptive technology, enterprise applications, enterprise apps, Enterprise apps strategy, enterprise software, enterprise strategy, event report, Exact Target, innovation, Internet of Things, IoT, Larry Ellison, mergers, Mergers And Acquisitions, oracle, Oracle 12C, Oracle E-Business Suite, Oracle Fusion Apps, Oracle Open World, R "Ray" Wang;, rwang0, social business, Software Insider, SoftwareInsider, user conference, User Experience, ux, vendor strategy

By Jeff Nolan on August 5, 2013
I have covered a couple of topics in this series, the first being hiring the best people and the second organizing for success based on the attributes of the people you are hiring. Today I want to go into territory less obvious because let's face it, hiring the best people and creating conditions where they […]
Posted in Business | Tagged engineering, Entrepreneurship, Get Satisfaction, gslessons, Product Management, startups, User Experience

By R "Ray" Wang on March 20, 2013
Customer Success, Acquisition, And New Features Drive Day 1 Headlines Almost 12,000 Microsoft faithful converged in New Orleans for the flagship Dynamics event.  Wayne Morris (@WayneMorrisOz), CVP kicked off the event reiterating the theme of "A World Ahead". Meanwhile, Kirill Tatarinov (@KirillTatarinov), President of Microsoft Business Solutions Division, led the session with a series of […]
Posted in Business | Tagged acquisition, acquisitions, Apps Strategy, Chobani, Cloud, Cloud Computing, Constellation Research, CRM, Customer Experience, customer relationship management, customer relationship management (CRM), enterprise applications, enterprise apps, Enterprise apps strategy, Enterprise Business Apps, enterprise software, enterprise strategy, erp, event report, Great Plains, microsoft, Microsoft Azure, Microsoft Business Solutions, Microsoft Dynamics, Microsoft Dynamics AX, Microsoft Dynamics Convergence, MIcrosoft Dynamics CRM, MIcrosoft Dynamics ERP, Microsoft Dynamics GP, Microsoft Dynamics NAV, Microsoft Dynamics SL, mobile, mobile enterprise, R "Ray" Wang;, ShockDoctor, social analytics, socialytics, SpaceX, user conference, user event, User Experience, vendor events, vendor strategy, Weight Watchers, WeightWatchers | 1 Response

By R "Ray" Wang on December 3, 2012
Pace of Innovation Exceeds Ability To Consume Rapid innovation, flexible deployment options, and easy consumption models create favorable conditions for the proliferation of disruptive technology.  In fact, convergence in the five pillars of enterprise disruption (i.e. social, mobile, cloud, big data, and unified communications), has led to new innovations and opportunities to apply disruptive technologies […]
Posted in Trends & Concepts | Tagged #techoptimization, adoption, analytics, Apps Strategy, best practices, Big Data, BigData, Business Analytics, Business Outcomes, business strategy, change, Change Management, Cloud, Cloud Computing, CoIT, CoIT and the New CSuite, Constellation Research, Constellation SuperNova Awards, Consumer Tech, Consumerization of IT, Corporate Digital Divide, Corporate Strategy, Corporate Vision, Corporate Vision And Strategy, customer engagement, Customer Experience, customer experience management, Data to Decisions, Data2Decisions, Digital Divide, digital marketing, Digital Marketing Transformation, disruptive, Disruptive Tech Life Cycle, disruptive technologies, Disruptive technology, enterprise, enterprise applications, enterprise apps, Enterprise apps strategy, enterprise class, enterprise software, future, future of business, future of work, innovation, innovation insights, innovation labs, management strategy, Monday's Musings, next gen cio, next gen CIO's, Next Gen Customer, Next Gen Customer Experience, Next Gen CXP, next gen enterprise, next gen IT leaders, next generation, Next generation apps, organizational strategy, outcome focused, People to People, public cloud, R "Ray" Wang;, rwang0, SaaS, socbiz, social business, Social Enterprise, Social Media, social technologies, Software Insider, SoftwareInsider, technology adoption, technology budgets, Technology Optimization, User Experience, ux | 2 Responses
By R "Ray" Wang on October 16, 2012
Key Themes Include Mobility, User Experience, and Innovation Over 1100 IFS customers convened October 15th to 17th, 2012 in Gothenburg Sweden for the IFS World Conference.  The conference brought together the world of projects, service and asset, manufacturing, and supply chain.  The conference highlighted the: Massive move to mobile. IFS continued their push into their […]
Posted in Technology / Software | Tagged #ifswoco2012, aerospace & defense, Apps Strategy, business technology, BYOD, Chief information officer, Cloud, Cloud Computing, Cloud options, CMO, Constellation Research, engagement, enterprise, enterprise applications, enterprise apps, Enterprise apps strategy, enterprise class, enterprise software, enterprise strategy, erp, event report, IFS, IFS North America, IFS World, mobile, mobile enterprise, News Analysis, projects, R "Ray" Wang;, rwang0, Software Insider, SoftwareInsider, Technology Optimization, user conference, user event, User Experience, user strategy, vendor strategy | 1 Response