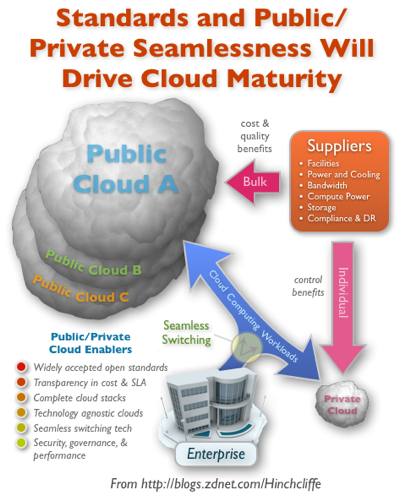 By Dion Hinchcliffe on November 24, 2009
This year has been one of relatively grand alliances between emerging cloud computing vendors as they fill holes in their capabilities and try to create appealing one-stop enterprise cloud services.
We've seen major announcements so far from IBM and Juniper, Cisco/EMC/VMware, and most recently BMC and Salesforce. There are many other smaller initiatives that have formed as well and all of these efforts underscore several key points for those businesses trying to understand the real strategic benefits of the cloud including cost, agility, and scalability.
In the end we have some momentus choices; here's how to take the high road when it comes to enterprise cloud computing.
Posted in Featured Posts, Trends & Concepts | Tagged Cloud Computing, Cost-effective scalability, Enterprise Web 2.0, Global SOA, Governance, Lightweight Service Models, Products, Radical Decentralization, SaaS, Web 2.0 Platforms, Web as Platform | 1 Response
By Dion Hinchcliffe on November 18, 2009
The next big shift: Intranets, portals, and software suites that are the integrating force of the social fabric for our organizations. This morning's announcement here at Dreamforce today from Salesforce of Chatter, an enterprise-class realization of Facebook and Twitter, is further evidence of the industry's push for social Web capabilities for business activities.
Early indications are […]
Posted in Business | Tagged blogs, Business Models, Cloud Computing, collaboration, Community, Enterprise 2.0, Enterprise Web 2.0, Products, SaaS, social computing, Social Economy, Social Media, social networking, social software, Web 2.0, Web 2.0 Platforms, Web as Platform