By Jeff Nolan on November 13, 2013
I read this today and thought "yes, it's about time". When a tab is streaming audio in Chrome 32 Beta, an indicator will appear next to the close tab X. The indicators will change depending on the source, so streaming audio will be denoted by a speaker icon, a red circle will indicate a Web […]
Posted in Technology / Software | Tagged Browser, chrome, Chromecast, google, google chrome, Streaming media, Tab (GUI), Uncategorized, Web browser

By Phil Wainewright on November 8, 2010
Forgive the pun, but Rockmelt and Seesmic are both omens of a tectonic shift that will shake up today's browsers and replace them with a new generation. But what will that new generation look like?
Posted in Featured Posts, Technology / Software | Tagged HTML5, Internet Explorer, Marc Andreessen, RockMelt, seesmic, Social Media, Web browser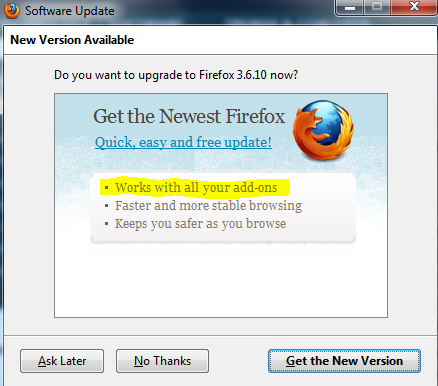 By Zoli Erdos on October 9, 2010
Problems with Firefox upgrade.
Posted in Technology / Software | Tagged application software, Firefox, Mozilla, Mozilla Firefox, upgrade, Web browser