By Dion Hinchcliffe on July 21, 2010
Yesterday in Portland at OSCON's Cloud Summit I spoke about major emerging trends in business, IT, and the Web. Specifically, I explored how Enterprise 2.0, Cloud Computing, and something known as Service-Oriented Architecture (SOA) have converged on top of the same "problem space" to become the essential fabric for how we solve the business problems […]
Posted in Featured Posts, Trends & Concepts | Tagged Blog Post, Cloud Computing, e20, Enterprise 2.0, Oscon, Service-oriented architecture, SOA, Social Enterprise, Web services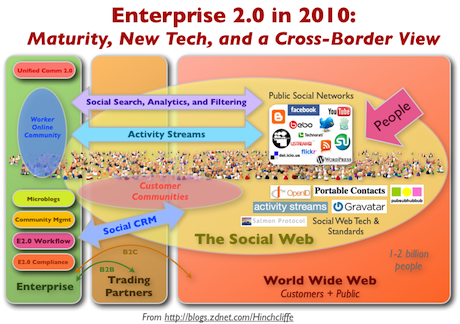 By Dion Hinchcliffe on February 22, 2010
Two significant and closely related trends in enterprise computing this year are the growth of Software-as-a-service (SaaS) and social computing. By most accounts, both are gaining ground fairly rapidly while still not being used for core business functions or mission critical applications in most large firms, at least not yet.
Here's a breakdown of what Enterprise 2.0 technologies and products to watch this year.
Posted in Featured Posts, Technology / Software | Tagged blogs, Business Models, collaboration, Community, community management, Convergence, Customer Community, Digital Strategy, Enterprise 2.0, Enterprise Web 2.0, Enterprise Wikis, Grassroots Community, Identity, LDAP, openid, Products, social computing, Social CRM, Social Economy, Social Media, social networking, social networks, social software, social web, Web 2.0, Web 2.0 Platforms, Web as Platform, Web services, Wikis | 2 Responses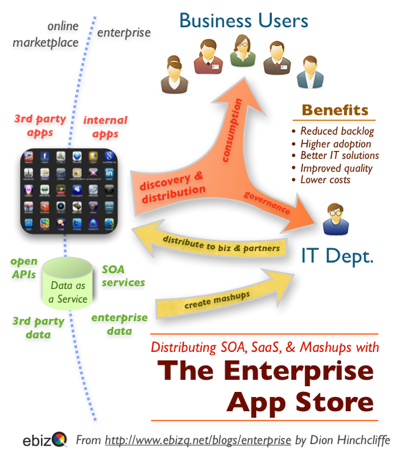 By Dion Hinchcliffe on February 5, 2010
There's been some useful discussion recently about using the app store model for distributing enterprise software and services within organizations. Up until now, most IT needs in the majority of businesses have been met largely through one-size-fits-all delivery of solutions…
Posted in Technology / Software | Tagged App Store, Business, Enterprise architecture, Enterprise Computing, Industry Trends, infotech, mashups, Open APIs, Open Business Models, open supply chains, SaaS, smbs, SOA, strategy, Web services, Web-Oriented Architecture (WOA) | 19 Responses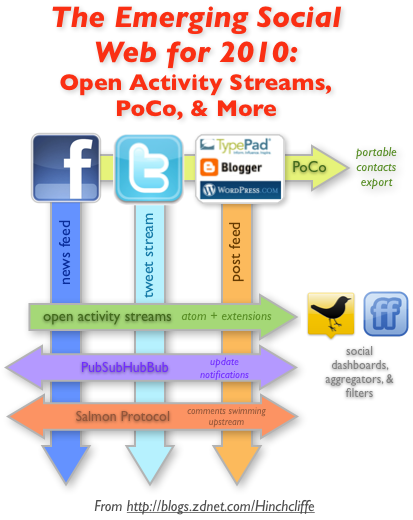 By Dion Hinchcliffe on January 20, 2010
The emergence of Facebook, Twitter, and the rest of the social Web as a global force in the last several years has done a great deal to highlight their potential to fundamentally alter the way we communicate and collaborate both at home and in business. However, despite the movement of social computing into our daily lives we're all clearly on a long journey together as the technologies themselves emerge from infancy.
The state-of-the-art today when it comes to the social computing environments that surround us now — in our browsers, mobile devices, and elsewhere — underscore how much more we have left to do to make these new modes of digital conversation and discourse become mature, efficient, safe, and truly useful.
Fortunately the Web doesn't stand still and there continues continues to be rapid research and development when it comes to the mechanics of today's online social universe. There are many new efforts under way to refine and improve the world of social media, some of which we'll explore here and many which are just beginning…
Posted in Featured Posts, Trends & Concepts | Tagged atom, Badges, blogs, collaboration, Community, Convergence, Enterprise Web 2.0, Facebook, Gadgets, Identity 2.0, Lightweight Service Models, Loosely Joined, microformats, Open APIs, openid, Products, RSS, SaaS, Small Pieces, social computing, Social Media, social networking, social networks, social software, social web, Structured Content, The Social Graph, Twitter, User Generated Content, Web 2.0, Web 2.0 Platforms, Web as Platform, Web services, widgets, Wikis
By Phil Wainewright on January 5, 2010
Continuing my review of emerging trends that are going to be big in 2010, here's one that I suspect will be a defining theme for IT throughout the coming decade. In one of my favorite postings of 2009 back in September, I called this trend The democratization of IT. Developing those thoughts over the past […]
Posted in Trends & Concepts | Tagged Architecture, Business applications, collaboration, Computing, Development, Enterprise 2.0, enterprise software, Information technology, Management, Service-oriented architecture, SOA, social computing, strategy, Technology / Software, Web 2.0, Web services | 7 Responses
By Dion Hinchcliffe on December 21, 2009
As we get ready to enter the final year of the decade, here's a round-up of what you found interesting here on Enterprise Web 2.0 based on actual readership. We'll see what the new year brings us but 2009 was full of notable developments that will have a lasting impact to way we using technology […]
Posted in Trends & Concepts | Tagged Business Models, Cloud Computing, collaboration, Collective intelligence, Community, Cost-effective scalability, Enterprise 2.0, Enterprise Web 2.0, Enterprise Wikis, Products, Radical Decentralization, social computing, Social Media, social networking, social networks, social software, Web 2.0, Web 2.0 Platforms, Web as Platform, Web services, Wikis
By Dion Hinchcliffe on December 11, 2009
It's a truism that you don't have to buy software to deliver on SOA, which is primarily a style of technical architecture and business strategy and isn't really something you can go out and purchase. But it's also true that…
Posted in Technology / Software | Tagged Architecture, Business, Cloud Computing, Compliance, Enterprise architecture, Enterprise Computing, esb, Governance, Industry Trends, integration, mashups, Open source, SOA, strategy, Technology / Software, Web services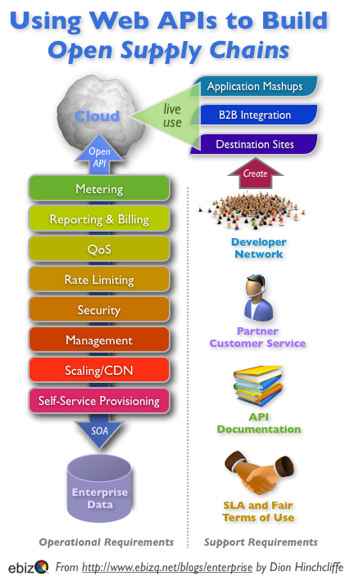 By Dion Hinchcliffe on December 2, 2009
I've been bullish for several years now on the potential of using open APIs as a new channel to the online business world, in particular using them to scale up new business relationships quickly and cost-effectively. Internet technology has made this possible for for a decade or more, but it's taken a while for awareness […]
Posted in Featured Posts, Technology / Software | Tagged API, B2B, Business Development, Business Models, Cloud Computing, cloud services, Enterprise Computing, Industry Trends, innovation, mashups, Network Security, Open APIs, Open Business Models, open supply chains, REST, salesforce, SOA, supply chain management, Twitter, Web 2.0, Web services, web services security, Web-Oriented Architecture (WOA) Tags: amazon