By Thomas Otter on February 1, 2021
Workday agreed to acquire Peakon. There is an obvious logic to this deal. Engagement tools are an important part of HRTECH today, and the cycle of larger vendor absorbing edge innovators continues. Cue Disney circle of life music. Engagement tools have done well under COVID-19, with the move to more remote work etc. Whereas 2 […]
Posted in Business | Tagged acquisition, GDPR, HRTech, M&A, Peakon, Start Up, workday
By Vinnie Mirchandani on May 10, 2020
A decade ago, Workday pioneered with its Technology Day format. I wrote back then "Few vendors have the guts to be open to such a smart and opinionated bunch as Workday was during its Technology Day yesterday. Like a marathon…
Posted in Technology / Software | Tagged #wday, Cloud Computing, SaaS, workday

By Vinnie Mirchandani on October 8, 2018
This was my sixth trip to Vegas this year. Coming from humid Florida, I have a routine for that city. Gallons of water and lotion to compensate for the heat and dryness. Gear to protect against the excess of artificial light and sound. But this time in town for Workday Rising, Vegas felt a bit […]
Posted in Featured Posts, Technology / Software | Tagged #wday, #wdayrising, workday

By Anshu Sharma on February 27, 2015
If you are on your journey as an entrepreneur to truly build something new and revolutionary, you will hear a lot of naysayers along the way. Salesforce and Workday both announced their financial results — once again showing that they continue to grow as part of the larger movement to SaaS. Salesforce is now generating almost half […]
Posted in Business, Featured Posts | Tagged Cloud, SaaS, salesforce, Uber, workday | 1 Response

By Phil Fersht on January 19, 2015
60% of enterprise C-Suites are actively seeking to reduce their reliance on labor in their operations – but most are discovering they need to work smarter before they can work cheaper.
Posted in Business, Featured Posts | Tagged Analytics and Big Data, as a service, Business Process Outsourcing (BPO), Buyers' Sourcing Best Practices, Cloud Computing, Digital Transformation, Engineering & Supply Chain Outsourcing, Enterprise Irregulars, Global Business Services, Healthcare and Outsourcing, HfS, HfS Surveys: All our Survey Posts, HfSResearch.com Homepage, HR Strategy, IaaS and BPaaS, IT Outsourcing / IT Services, Knowledge Process Outsourcing & Analytics, mobility, Outsourcing Advisors, PaaS, Phil Fersht, procurement, Robotic Process Automation, SaaS, SAP SuccessFactors, Sourcing Change Management, Talent in Sourcing, The As-a-Service Economy, The Internet of Things, Value Beyond Cost Study 2015, workday

By Vinnie Mirchandani on December 19, 2014
Amazon has  SAP Nation on the Kindle and in softcover. Over the next few weeks the book will be available in other print and eBook formats. As I have done with my other books, I plan to excerpt here about 10% of the book over the next several weeks for my blog readers. Here is […]
Posted in Business | Tagged AstraZeneca, bp, e-book, Flextronics, kenandy, sap, SAP AG, SAP Nation, workday | 1 Response

By Vinnie Mirchandani on November 7, 2014
Howard Street in San Francisco on Tuesday morning looked different. The tarmac was visible and cars were actually using it. Outside Moscone Center, a local folk rock band, Blind Willies was playing. Excellent, but nowhere near the brand recognition of say, Aerosmtih or Will.i.am. Inside Moscone, the rooms had plenty of empty seats. Welcome to […]
Posted in Business, Featured Posts, Technology / Software | Tagged #wdayrising, conferences, customer relationship management, Moscone Center, salesforce.com, San Francisco, workday, Workday Rising

By Vinnie Mirchandani on September 24, 2014
In 2009, I wrote a blog about Parker Harris, the co-founder of Salesforce.com titled The Loneliness of a Pioneer. I wrote "..in some ways he wishes the larger vendors would be there today. There are common engineering and plumbing challenges every competitor hits which are useful to share experiences around.  It would be good for the […]
Posted in Business, Featured Posts | Tagged #wday, Aneel Bhusri, Parker Harris, PeopleSoft, salesforce.com, workday, Workday Tech Summit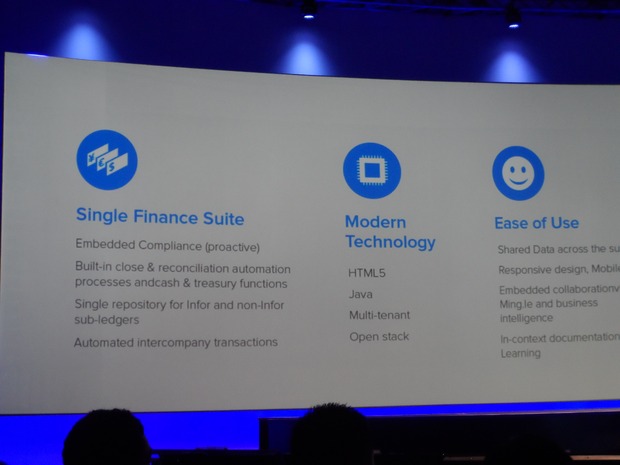 By Brian Sommer on September 24, 2014
Infor's suite of high-end cloud financial software products include a new user interface, in-memory database technology and more. CloudSuite signals a major shift in the application space. Will CIOs bite?
Posted in Featured Posts, Technology / Software | Tagged Charles Phillips, Cloud Computing, Cloud ERP, CloudSuite Financial, erp, Infor, netsuite, sap, workday

By Vinnie Mirchandani on September 11, 2014
Starting next week I will get briefings from a wide range of enterprise players – Infor, Workday, Oracle, Rimini, Salesforce and Microsoft among them. Conference season is in full swing. I have not been so excited in a long time. The reason is I feel a thaw in the enterprise market. My SAP Economy book […]
Posted in Technology / Software | Tagged HANA, microsoft, Rimini, sap, SAP Hana, workday