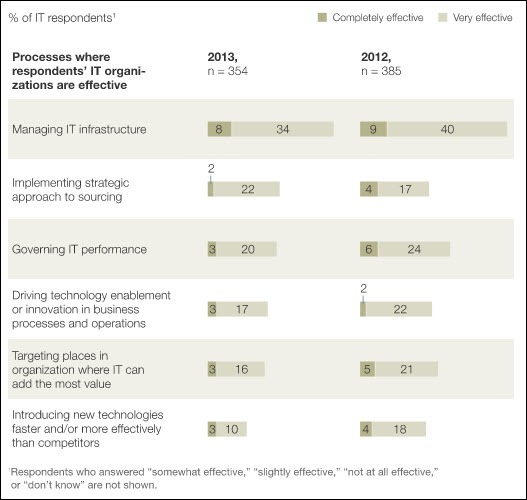 By Michael Krigsman on April 3, 2014
A new study from strategy consulting firm, McKinsey, shows "growing dissatisfaction" with IT performance, from both business users and within the ranks of IT itself. The study notes that almost one-third of IT respondents believe replacing their own leadership should be a top priority to improve IT performance. This data signals a growing crisis, in which […]
Posted in Business | Tagged CIO, Dion Hinchcliffe, McKinsey & Company, ZDNet

By Michael Krigsman on March 28, 2013
This week's episode of CxO Talk, with my co-host Vala Afshar, features top CRM analyst, Paul Greenberg, as our guest. Paul is widely known as the "godfather of CRM" and is a contributor to ZDNet. Here are important topics from the discussion: On Microsoft Dynamics CRM: Microsoft held its annual Convergence conference in New Orleans […]
Posted in Trends & Concepts | Tagged #cxotalk, microsoft, Paul Greenberg, salesforce.com, ZDNet | 1 Response

By Phil Wainewright on February 20, 2013
In the emerging enterprise application landscape, collaboration is the business activity most transformed by cloud. The revolution in outcomes is far greater than those wrought by earlier technology-driven advances in global teamwork, such as the telephone, air travel and satellite communications. The Web is the first medium that provides a unified platform for every form […]
Posted in Featured Posts, Technology / Software | Tagged Box, BoxHQ, EnSW2013, eurocloud, google, Huddle, ibm, linkedin, microsoft, ProjectPlace, Sliderocket, Socialcast, WebEx, ZDNet, zimbra, zoho | 5 Responses

By Vinnie Mirchandani on January 28, 2013
Peter Goldmacher at Cowen and Larry Dignan/Dennis Howlett at ZDNet have painted in the last few days a bleak view of the social enterprise. It is interesting to read their comments in a week which starts with the Connect event which showcases IBM's attempts to reposition Lotus Notes as social, and ends with the Super […]
Posted in Trends & Concepts | Tagged BranchOut, ibm, linkedin, Social Media, Super Bowl advertising, ZDNet | 1 Response

By Michael Krigsman on December 11, 2012
On April 7, 2006, I wrote my first blog post, titled Poor, Poor FBI, describing an ill-fated FBI project called the Virtual Case File. That article kicked off a writing spree, which continues to this day, of more than 1,000 pieces on ZDNet and elsewhere. Now, I'm extending the IT failures mandate to include broader […]
Posted in Trends & Concepts | Tagged Chief information officer, IT Failures, Michael Krigsman, project management, ZDNet

By Denis Pombriant on September 5, 2012
The aftermath of the verdict from the patent infringement lawsuit between Apple and Samsung initially generated more heat than light. But the last few days have made up for the light that failed to emanate from the weekend's id fest and Armageddon prediction Internet confab.
Posted in Trends & Concepts | Tagged apple, coke, Coke Bottle, economics, Enterprise Irregulars, google, intel, Parry Page, Reuters, technology, Tim Cook, windows, ZDNet

By Paul Greenberg on May 14, 2012
What this post is not is a discussion of how to determine influence. I'm going to leave that to my dear friend and brilliant scientist, Dr. Michael Wu, the Chief Scientist at Lithium.  He, far better than Klout, PeerIndex and any of the other so-called influence indices, knows how to look at and determine the […]
Posted in Featured Posts, Trends & Concepts | Tagged Enterprise Irregulars, influencers, Klout, lithium, PeerIndex, Public relations, ZDNet | 5 Responses

By Denis Pombriant on January 31, 2012
Re: Larry Dignan's ZDNet Piece "Apple's supply chain flap: It's really about us" When he died, the cover of the New Yorker had a cartoon of him checking into heaven and St. Peter looking him up on, what else?  An iPad.  So began the mythologization of Steve Jobs. There was a lot to like about […]
Posted in Business | Tagged Apple supply chain, Current Affairs, economics, Foxconn, larry dignan, ZDNet

By Denis Pombriant on October 26, 2011
Uber analyst Dennis Howlett over at ZDNet wrote a piece ruminating on the Gartner Symposium and colleague Larry Dignan's summary of the meeting, "Enterprise IT: Here comes that deer in the headlights look again" that is well worth reading.  Together the articles wonder aloud how much time there is between now and the paradigm shift that will […]
Posted in Business, Featured Posts, Technology / Software | Tagged CRM, Dignan, economics, Gartner Symposium, Howlett, oracle, sap, technology, workday, Workday Rising, ZDNet, Zuora | 1 Response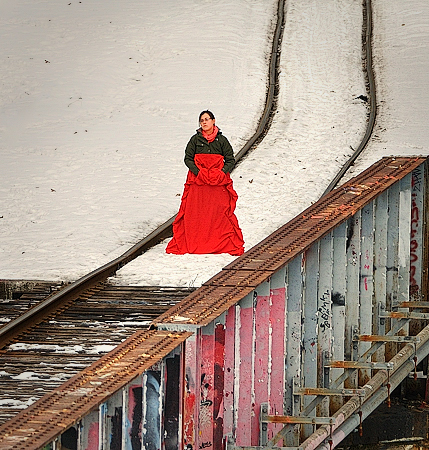 By Michael Krigsman on January 31, 2011
Failure is an essential step towards excellence — here's why.
Posted in Technology / Software | Tagged Asuret, CA Technologies, failure, Information technology, Learning, Michael Krigsman, ZDNet